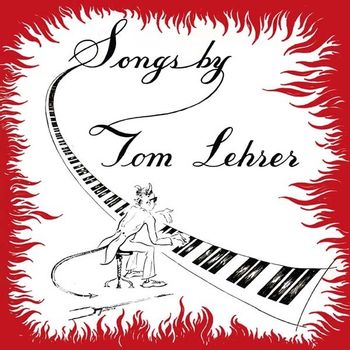 Songs by Tom Lehrer
is the first album of songs by humorous songwriter
Tom Lehrer
, released in 1953. Lehrer wrote these songs when he was a doctoral candidate in mathematics at Harvard and recorded them in a one-hour session at a studio for rent in
Boston
. Since Lehrer, paying for the release out of pocket, only put out 400 copies, the original album was extremely rare for years, although it got a British release on
Decca Records
in 1958 and Lehrer recorded a new version of the album for his then-current label,
Reprise Records
, in 1966. Since then it's been reissued several times, allowing many more to experience the Joy of Tom.
In 1960, a Live Album featuring the same songs with additional banter between them was issued in the U.S., the U.K., and Australia. The U.K. version was titled Tom Lehrer Revisited and was assembled from performances recorded November 23 and 24, 1959 at the Kresge Auditorium of MIT in Cambridge, MA; this version was the only one to be released on CD. The Australian version was titled Tom Lehrer Discovers Australia (and Vice-Versa) and used performances recorded March 21, 1960, in Melbourne and May 4, 1960, in Sydney. The U.S. version used the same title and almost the same cover as the U.K. version, but used the MIT performances on side 1 and the Australian performances on side 2. All three versions had different track sequences.
In 2004 the album was inducted into the National Recording Registry for being "culturally, historically and aesthetically important."
Tracklist note
Side One
"Fight Fiercely Harvard" (1:25)
"The Old Dope Peddler" (1:27)
"Be Prepared" (1:32)
"The Wild West Is Where I Want to Be" (2:03)
"I Wanna Go Back to Dixie" (1:54)
"Lobachevsky" (3:11)
Side Two
"The Irish Ballad" (3:01)
"The Hunting Song" (1:19)
"My Home Town" (2:39)
"When You Are Old and Gray" (1:52)
"I Hold Your Hand in Mine" (1:28)
"The Wiener Schnitzel Waltz" (1:56)
I trope your hand in mine, dear:
---