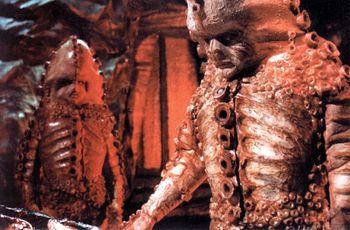 "Oil? An emergency? Ha! It's about time the people who run this planet of yours realised that to be dependent on a mineral slime just doesn't make sense."
—
The Doctor
doesn't agree with the Brigadier's assessment while simultaneously taking a jab at the real-world
oil crisis
from two years prior.
The one where the Brig wears a kilt.
Written by Robert Banks Stewart. This four-episode serial first aired from August 30 to September 20, 1975.
---
After getting a distress call from the Brigadier, the TARDIS team leaves
the Nerva Beacon
and heads for Earth — Scotland, to be precise. The Doctor decides to wear a Tam o' Shanter for the occasion, decorating Harry and Sarah Jane with his scarf and hat respectively. The Brigadier is sporting a fancy kilt. Once he and the Doctor are done making fun of each other, they get down to business: UNIT are investigating a series of attacks on North Sea oil rigs from a temporary base in the Scottish village of Tulloch.
The Doctor discovers that the attacks are the work of a giant lactating cyborg dinosaur in Loch Ness, controlled by an alien race called the Zygons from their ship beneath Loch Ness. The Zygons can imitate the form of other life-forms whom they have imprisoned on their ship, and are currently impersonating many of the village locals in order to infiltrate the UNIT base. When Harry gets shot in the head, the Zygons kidnap him from the hospital, copy his body and attack Sarah Jane wirth a pitchfork in order to get to the Doctor.
The Zygons plan to use their shapeshifting abilities to take over the world as a substitute for their own dead planet, but the Doctor releases the prisoners and destroys the ship, single-handedly killing all but one of the Zygons. The survivor, Broton, makes his way to London disguised as the Duke of Forgill. He plans to destroy a World Energy Conference using the cyborg, known as the Skarasen, and use this show of strength to persuade the world to give in to his demands. However, before he can do so, he's shot by UNIT in the middle of London, and the Doctor feeds the tracking device to the Skarasen. With no more control, the Skarasen returns to the only home it knows — Loch Ness. Harry decides he's had enough of this time-travel lark and remains on Earth while the Doctor and Sarah depart for adventures new.
---
The serial was actually filmed as the final instalment of the previous season, which is why it wraps up that one's story arc and provides one last hurrah for the Doctor-Sarah-Harry team and Season 12's transitional style. This was the last script that had been originally greenlit by
Barry Letts
and
Terrance Dicks
, and the next would complete the shift into the Gothic style
Robert Holmes
and
Philip Hinchcliffe
would become famous for.
Tropes:
---