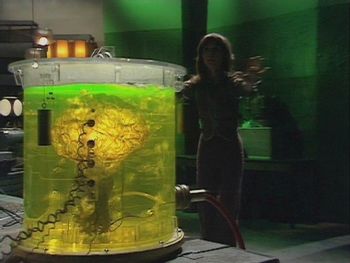 "I am still here. I can see nothing, feel nothing. You have locked me into hell for eternity. If this is all there is, I would rather die now... Trapped like this, like a sponge beneath the sea. Yet even a sponge has more life than I. Can you understand a thousandth of my agony? I, Morbius, who once led the High Council of the Time Lords, reduced to this - to the condition where I envy a vegetable."
— Morbius
The One With… the passive-aggressive pseudonym. Also the one that created a stir with the suggestion that past lives of the Doctor existed before the First. Also the one where Tom Baker and Elisabeth Sladen get to make puns!
Written by Terrance Dicks and Robert Holmes (under the pseudonym Robin Bland). This four-episode serial first aired from January 3—24, 1976.
---
The Doctor and Sarah arrive on the planet Karn, home to the Sisterhood, who guard the sacred flame that produces the Elixir of Life. Elsewhere, scientist Mehendri Solon is attempting to build a new body for the living brain of Morbius - a criminal executed by the Time Lords.
Solon decides that the head of the Doctor will prove a fitting home for Morbius' brain, but before he can act, the Doctor is kidnapped by the Sisterhood, who fear that he has been sent by the Time Lords to steal the last of the Elixir of Life from the dying flame. The Doctor is to be burned at the stake, but he is rescued by Sarah, who goes temporarily blind in the process.
Solon convinces the Doctor that Sarah's condition is permanent, and the Doctor goes to the Sisterhood for help — convincing them of his good offices by using a firework to clear a blocked chimney and restore the flame. Returning to Solon, the Doctor and Sarah are trapped in the cellar. The Doctor releases cyanide gas and kills Solon, but Morbius' new body is working (sort of), with a plastic bowl as a temporary head. Stumbling about, Morbius accepts the Doctor's challenge of a battle of minds, and both are severely weakened by the ordeal. The sisterhood push the disoriented Morbius over a cliff and heal the Doctor with the Elixir.
---
Tropes
You Fool!: Morbius when he discovers that Solon has lured a Time Lord there.
You're Insane!: As Mehendri Solon is about to begin his gruesome experiment:

Sarah Jane: You're insane, Solon, you're mad!
---