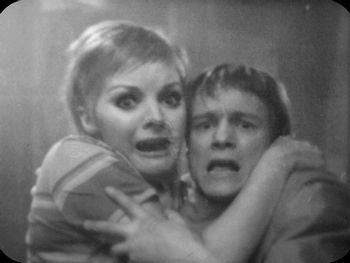 "This is an emergency! Control must be believed and obeyed! No-one in the colony believes in Macra! There is no such thing as Macra! Macra do not exist! There are no Macra!"
— Control (protesting too much)
The one where Jamie dances.
The TARDIS arrives at a human colony that seems happy enough but, as it turns out, the colonists are being mind-controlled by a race of giant crabs called the Macra. The Macra are using the humans to mine the toxic gases they need to survive.
Ben is affected by the Macra mind-control and starts to turn against the others, but the Doctor succeeds in breaking their hold and Ben destroys the gas-mining equipment, killing the Macra and freeing the colonists.
The Macra make their first and only appearance in the classic canon in this serial. The villains would be long forgotten, if not for their later return in the Tenth Doctor episode "Gridlock".
"The Macra Terror" is one of most famous "lost" serials; having only aired a single time before being wiped. In spite of this, it has achieved legendary status due to the Macra later reappearing in modern Doctor Who and generations of fans wondering how the devil did Doctor Who (a show notorious for its low budget) managed to make a story with GIANT CRABS as villains.The Answer? The production staff only had one prop— the only one they were able to afford— and the amount of stuff they could do with it was extremely limited.
Luckily, the audio of all four episodes survived and in 2019, it was released as a fully animated reconstruction on DVD. In a change from previous animated episodes, it's the first reconstruction that's not a shot-for-shot recreation. Instead the BBC used the animated format to effectively recreate the serial visually in a manner that the original serial's budget could never have achieved.
---
Tropes:
---