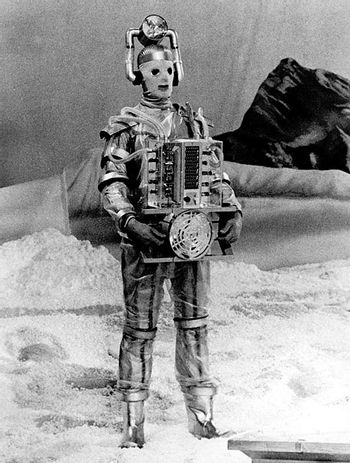 Cyberman: Feelings? I do not understand that word.
The Doctor: Emotions. Love. Pride. Hate. Fear. Have you no emotions, sir?
Cyberman: Come to Mondas and you will have no need of emotions. You will become like us.
Production code: DD
The one where the Doctor says goodbye... for the first time. Also the first one with the Cybermen.
The first overwhelming Wham Episode of the series. The Doctor embarks on his final adventure, having reached the precipice of his body's lifespan. But it turns out there can be... a second Doctor?
Written by Kit Pedler and Gerry Davis. This four-episode serial first aired from October 8-29, 1966.
---
The TARDIS materialises at the South Pole in the far future of 1986, where a manned space probe is being talked down to Earth by a Space Tracking Station. The capsule is in difficulty, the Doctor realises, because of the gravitational pull of another planet that is moving toward Earth.
This planet, a dead upside down version of Earth, turns out to be Mondas, Earth's lost "twin planet" from long ago, which drifted away from orbit and is now the home of the Cybermen, a race of human-like beings who have over many centuries replaced their limbs and organs with metal and plastic. The Cybermen attack the tracking station while Mondas starts to drain Earth's energy. Ben stops General Cutler, in command of the station, from launching a powerful "Z-Bomb" to destroy the Cybermen and Mondas eventually disintegrates from absorbing too much energy. The Cybermen are apparently entirely dependent on their planet, as once it is gone they all collapse and die. This wasn't the end of them, naturally.
The Doctor is also weakened and hurries back to the TARDIS without Ben and Polly. In a series of events that would remain unrevealed to us for another fifty-one years, upon returning to his TARDIS, his body beginning to glow with strange energy, the Doctor notices a similar TARDIS, with another silver-haired gentleman in a state not unlike his own. After a circumstance involving glass people, a World War I captain, and a future companion of his, he returns to his own TARDIS, where he collapses and the TARDIS takes off of its own accord, Ben and Polly having caught up. Before the humans' astonished eyes, the Doctor's face glows and becomes that of a completely different man...
---
This was
William Hartnell
's last story as the incumbent Doctor, his tenure ending at twenty-nine stories and 134 half-hour episodes (placing him at second only to his distant successor
Tom Baker
in terms of televised minutes spent in the role) and the debut of
Patrick Troughton
as the Second Doctor, in the first instance of regeneration on screen. Since this was just an experimental plot element at the time, the changeover occurred early on in Season 4. Later regenerations would normally not take place until a respective season finale or end-of-year special to cap off that Doctor's tenure (with
one exception
). A few of the Doctor's regenerations have been depicted under unique circumstances, when they were sudden plot twists or "
past due
", so to speak. Regeneration was not an ability exclusive to the Doctor, as it would be explained as a feature of the Doctor's species and demonstrated by others like him as well.
Episode 4 is, unfortunately, one of the missing ones (although footage of the regeneration itself survives). An animated reconstruction of the fourth episode has been produced for the story's DVD release, initially in June 2013 as part of a Limited Special Collector's Ultimate Edition box set of all the Doctor's final stories, and later on its own. A brief segment was also faithfully remade for the 2017 Christmas special "Twice Upon a Time", which itself takes place within the final moments of this serial and expands on the circumstances behind One's regeneration.
---
Tropes
---
"Ah yes, thank you, it's good, keep warm."note
---