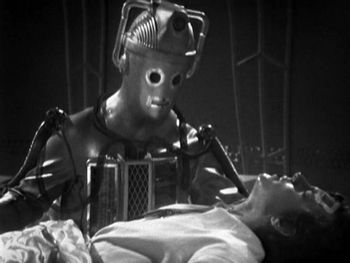 "There are some corners of the universe which have bred the most terrible things. Things which act against everything we believe in. They must be fought."
— The Doctor
The one with coffee.
Cybermen on the Moon, as the perennial favourites make their second appearance in essentially a retread of their first. And in the same season to boot!
Written by Kit Pedler. This four-episode serial first aired from February 11 to March 4, 1967.
---
It's 2070 AD and Earth's weather is controlled from a station on the Moon by means of the Graviton. The crew of the station are coming down with a disease that turns out to be a Cyberman-engineered poison. Polly and Ben realise that as Cybermen are part-plastic, solvents ought to harm them, and mix up a cocktail of chemicals which they use in fire extinguishers to defeat the Cybermen on the base.note Gold will be used later.
A second wave of Cybermen invade across the Moon's surface but the Graviton quickly sends them flying off into space and the travellers go on their merry way.
Called Doctor Who and the Cybermen in the 1974 novelization.
Tropes
---