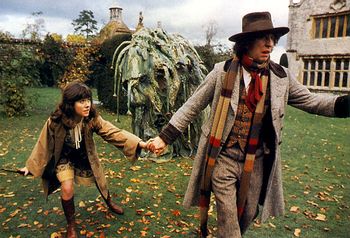 Harrison Chase: "What do you do for an encore, Doctor?"
The Doctor: "I win."
"You and your kind are nothing but parasites. You're dependent upon us for the air you breathe and the food you eat. We have only one use for you..."
— The Krynoid, speaking through Harrison Chase
The one where the Doctor suddenly decides to play James Bond for a day.
Written by Robert Banks Stewart. This six-episode serial first aired from January 31 to March 6, 1976.
---
The TARDIS arrives in England as two large alien seed-pods are found in the Antarctic permafrost. Helicoptered out to the Antarctic base to see for himself, the Doctor identifies them as Krynoids: a particularly rapacious plant that will, if allowed to germinate, consume all life on Earth.
One of the scientists, Winlett, is infected by the pod and begins to turn into a Krynoid himself. But he's destroyed by a bomb set by a mercenary, Scorby, and a rather confused botanist, Keeler, who steal the other pod on behalf of their employer, plant collector (and nutjob) Harrison Chase. Chase takes Sarah hostage and plans to open the pod in her presence, which will infect her. The Doctor, who we should mention is more pissed off than we've ever seen him to this point, rescues Sarah, and Keeler, who genuinely never wanted to get caught up in a murder case, ends up infected. This doesn't bother Chase much, and he begins to feed Keeler raw meat to accelerate the transformation. At this point, people start calling UNIT, but the Brig is in Geneva and his replacement isn't really the quick type.
The Keelernoid grows bigger and bigger, eventually beginning to take over Chase's mansion, while the mad collector decides to turn the Doctor into compost to feed it. But he ends up falling into the crusher himself, while the Krynoid is bombed by the RAF.
Not to be confused with "The Seeds of Death".
Tropes
---