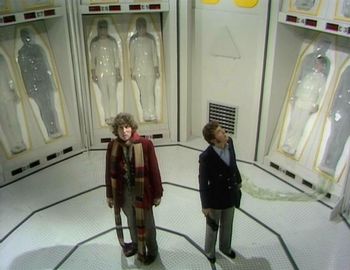 "Homo sapiens. What an inventive, invincible species. It's only a few million years since they crawled up out of the mud and learned to walk. Puny, defenceless bipeds. They've survived flood, famine and plague. They've survived cosmic wars and holocausts. And now, here they are, out among the stars, waiting to begin a new life. Ready to outsit eternity. They're indomitable. Indomitable."
— The Doctor
Production code: 4B
The One With… killer bubble wrap.note Well, not in-universe. At least not this time.
Written by Robert Holmes. This four-episode serial first aired from January 25 to February 15, 1975.
---
Before Alien, there was "The Ark in Space". note Wait, we've made this joke before...
The TARDIS arrives on an apparently deserted space station in Earth orbit, some time in the far future. Investigating, the Doctor, Sarah and Harry discover that the remnants of the human race are in suspended animation awaiting Earth's return to habitability following solar flares. The Doctor realises that the Earth is in fact now habitable again and activates the controls to begin reviving the humans. However, there appears to be something amiss — some controls are damaged (which is why the alarm clock didn't go off) and there are green trails around the place.
It seems that a race of giant insects — the Wirrn — are also aboard. Eggs have been laid in the solar stacks, and larvae are glimpsed. One of them infects the human leader, Noah, who begins turning into a Wirrn himself. The Doctor and his companions gain the trust of the other defrosted humans, now led by medical officer Vira, and together they lure the hatched Wirrn onto a shuttle craft and launch it into space. Noah, using the last vestiges of his humanity, deliberately doesn't set the shuttle's stabilisers and it explodes.
Both Russell T Davies and Steven Moffat have cited this as their favourite story from the original run of Doctor Who.
---
Tropes:
---