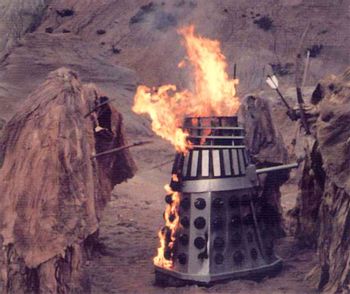 Production code: XXXnote If you thought that was bad, at least it wasn't the production code for "Day of the Daleks".
The One With… menacing tile flooring.
Written by Terry Nation. This four-episode serial first aired from February 23 to March 16, 1974.
---
Landing on the planet Exxilon, the TARDIS is drained of energy by a mysterious force. Emerging to investigate, the Doctor meets an expedition from Earth who are in search of Parrinium, a rare substance only found on Exxilon and which is vital for the cure of a virulent space plague.
Sarah, meanwhile, wanders off to investigate the tall building with a flashing beacon on top that she's spotted. She is promptly captured by a group of primitive Exxilon natives and taken off to their cave to be sacrificed for defiling the city.
The Doctor and the humans meet a group of Daleks, who have had their weapon energy drained by whatever mysterious force has disabled the TARDIS. They enter an uneasy alliance and then are also captured by the Exxilons.
The Doctor saves Sarah from execution, only to be sentenced to death himself. They both escape into the tunnels as more Daleks show up with mechanically-powered guns and attack the cave. The Doctor and Sarah meet Bellal, an intelligent, articulate Exxilon, who tells them that the Exxilons built the city themselves but brought about their downfall. The Doctor figures out that the tower Sarah saw is causing the energy drain, and decides to put it out of action.
The Doctor and Bellal make their way past a series of deadly traps through the city and the Doctor tinkers with the master computer to give it something akin to a nervous breakdown.
The Daleks have been busy stocking all the parrinium into their ship, and now take off, only for the ship to blow up in mid-air, thanks to a bomb smuggled on board by one of the humans, and Sarah reveals that she and another of the humans have replaced the Daleks' parrinium with bags full of sand, and smuggled the real thing onto their own ship. The city melts, and the Doctor is left to mourn the loss of one of the wonders of the universe.
---
An official BBC radio play by Barry Letts, "The Ghosts Of N-Space", takes place between this serial and the next and stars Three, Sarah Jane and the Brigadier.
Tropes
---