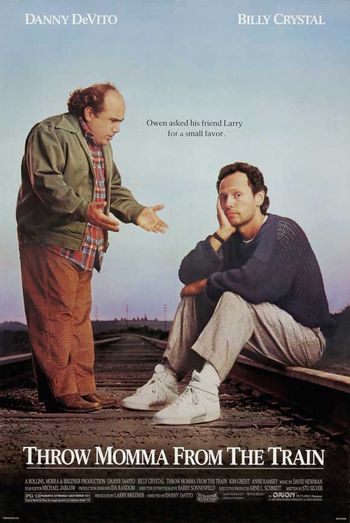 Throw Momma from the Train is a 1987 Black Comedy directed by Danny DeVito (his directorial debut), who stars along with Billy Crystal.
Writer Larry Donner (Crystal), suffering from severe writer's block, has taken to teaching writing to aspiring (if not necessarily talented) would-be writers, and thus meets simpleton Owen Lift (DeVito). Larry is wracked with jealous rage over his ex-wife Margaret (Kate Mulgrew), who became a world-famous author after stealing his book and publishing it as her own. Owen, meanwhile, fantasizes about offing his abusive Momma (Anne Ramsey).
After being instructed by Larry to see some Hitchcock films to help him learn how to write murder mysteries, Owen comes to believe Larry was secretly sending him a message to exchange murders after watching Strangers on a Train: Owen is to kill Margaret, and Larry is to kill Owen's monstrous mother. Larry becomes entwined with the idiot "couch potato" when he goes on the lam from being a major suspect in Margaret's murder, since Owen failed to tell him of his intent and didn't allow Larry to create an alibi.
Anne Ramsey earned an Academy Award nomination for her role as Momma, and passed away a year later.
---
"Throw Momma from the Tropes":
Actor Allusion: Anne Ramsey was better known for playing another evil "Mama"note who lorded over another childlike son.
Adaptation Decay: An in-universe example of Owen's new book.

A children's pop-up book version of the events of the movie.

Affectionate Parody: Of Hitchcock mystery films, with Strangers on a Train central to the plot (and featuring multiple Plot Parallels).
Ambiguous Disorder:

Owen is a very childish man whose pastimes consist of playing with his childhood coin collection and train set. He has very poor boundary issues, doing things like watching Larry and Beth making love or sneaking up behind Larry to give him his scarf back without announcing his presence. The story he writes for class is an extremely simple murder mystery that's only three pages long and only has two characters. Not to mention him assuming Larry wants him to murder his wife in exchange for killing his mother. It's possible that losing his father at a young age and having to take care of his increasingly unstable mother left him somewhat emotionally stunted.
Momma herself seems to have some sort of dementia, displaying signs of bipolar disorder and/or Alzheimer's.

Ambiguous Innocence: Owen's a really naive Manchild, but he is eerily casual about murdering a complete stranger.
Arc Words: "Criss cross!"note
Arson, Murder, and Jaywalking: After Larry tells Beth that Margaret has been killed, Beth says that she feels nauseous. Larry's reply:

Larry: Oh, great. Margaret's dead, I have no alibi, and now you're mad because I've upset your stomach.

Asshole Victim:

Larry's ex-wife, Margaret.

Ultimately subverted in that she didn't die.

Momma's not much better, being at best abusive of Owen. However, she's also suffering dementia. Also subverted, because while she does die, it's from natural causes.

Attention Deficit... Ooh, Shiny!:

Owen: (morosely) You're right. I'm a bad person. (sees dairy billboard) Look, cows!

Aw, Look! They Really Do Love Each Other: Despite being My Beloved Smother, Momma really does love Owen. For example, when Owen manages to clear her ear canal (after fantasizing about shoving a pair of scissors through her brain, of course), she coos, "Owen! My little baby! My little baby!", kissing him on his forehead. During the final sequence, Owen decides he doesn't want Larry to kill her. It's never outright stated in the film, but Momma may be suffering severe dementia, and Owen - who isn't the brightest bulb in the box - is struggling to cope with it.
Bad Liar: Owen, who attempts to present Larry as his cousin Paddy. His momma says he doesn't have a cousin Paddy, followed by Owen hitting Larry with a frying pan, exclaiming "You lied to me!"
Bait-and-Switch: Owen approaches slowly behind Larry in a laundromat with what looks like a garrote, looking like he's going to strangle him for giving him a hard time in writing class. He startles Larry, and apologizes, holding up a tie, saying Larry dropped it and he was worried it was going to get "rooned" in the rain.
Bedroom Adultery Scene: Owen is hiding behind the couch upon which Margaret and Mr. Lopez are having sex...and takes the time to flip through an issue of Us Magazine. The phone rings, and Owen pushes it to where the oblivious Margaret can reach it leading to...

Coitus Uninterruptus: Margaret is able to have sex and carry on an intelligent telephone conversation with her agent at the same time.

Berserk Button: Larry has many of them, including any mention of his wife becoming famous. It's even a Running Gag that he uses the Insistent Terminology that she's his Ex-wife. EX-WIFE. Another one is plagiarism — rather justified because of the aforementioned issue. He even immediately changes the way that he describes that It Was a Dark and Stormy Night in the book he's trying to write (and we spend a long scene seeing him trying to decide which word to use) when it turns out that Owen starts his own story using the same word. The film even briefly segues into a near-Here We Go Again! when he discovers that Owen also made a book based on their experiences in the film, until Owen shows him that it's a children's book with a wholly different ending.
Beware the Nice Ones: Owen is an impossibly nice Shrinking Violet — but is perfectly willing to commit cold-blooded premeditated murder without blinking.
Brick Joke: Mr. Pinsky, a student in Larry's creative writing class, creates a controversy in the class due to his planned coffee table book, titled '100 Girls I'd like to Pork'. The other students argue about it and Larry says that it 'isn't literature.' When the students are being interrogated by the police over Larry's possible involvement in Margaret's disappearance, Pinsky's police offer is too busy looking at his book ("It's a coffee table book", Pinsky explains.)

Right at the end of the movie, we see Mr. Pinsky's published coffee table book sitting on Larry's desk.

Buffy Speak/Department of Redundancy Department:

Mrs. Hazeltine's bad writing results in a less-than-descriptive short story.

Mrs. Hazeltine: "Dive! Dive!" yelled the Captain through the thing! So the man who makes it dive pressed a button, or a something, and it dove. And, the enemy was foiled again. "Looks like we foiled them again," said Dave. "Yeah," said the Captain. "We foiled those bastards again. Didn't we, Dave." "Yeah," said Dave. The End.

Owen's murder mystery always involves "one guy in the hat trying to kill the other guy in the hat."

Butt-Monkey: The universe is not kind to Larry. His ex-wife gets rich off a story she stole from him (and his agent signs her as a client), he's stuck in a dead-end job teaching a creative writing class to the worst aspiring authors out there, gets wrangled into a crime due to his student's stupidity, and suffers all kinds of pain and humiliation along the way. As if to illustrate this point, Momma hangs her shawl up on a basement door that's been rigged to fall and send her tumbling to her death down the stairs, and even knocks on it for good measure, to no effect. But when Larry tests it out, it collapses immediately and sends him hurling down the stairs!
The Cameo:

Rob Reiner as Larry's once and future literary agent.

Cane Fu: Momma uses her cane to good effect beating up Larry.
Catchphrase:

Pinsky: It's.. a coffee table book.
Larry: That's it, and that's all!

Central Theme: Trains appear constantly in the film.
The Chew Toy: Larry and Owen both.
Coitus Interruptus:

Owen interrupts Larry and Beth's lovemaking on a kid's train.
Larry also busts in on his best friend Lester in bed with a girl he picked up, a "Mrs. Gladstone". Humorously, Lester's date destroys Larry's alibi, since she just happens to be a stewardess.

Comically Missing the Point: And how. Owen gets the wrong message when Larry tells him to go see a Hitchcock movie. In fact, the first thing Owen says when Larry suggests it is to brightly ask like a happy puppy, "You wanna go to the movies with me?"
Contrived Coincidence: Larry suggests that Owen go see a Hitchcock film to better understand how mystery/thriller stories are written. Owen does so the very next day, and Strangers on a Train just happens one of the films that is playing.
Crazy-Prepared: Owen surprisingly had the foresight to purchase his plane ticket to Hawaii in Larry's name, thus preventing Larry from using the ticket as evidence against Owen.
Determinator: Owen and Momma.
Digging Yourself Deeper: Larry running around and telling everyone he has no alibi for Margaret's murder does him no favors, especially when the police interview witnesses. It makes Beth suspicious as well.
Disappeared Dad: Owen lost his father when he was still a kid, and it apparently left a pretty big hole. The revelation comes during a rather touching scene where Owen shows off his "coin collection," consisting of the loose change his father let him keep when they would go on recreational outings.
The Ditz: Owen drifts into this territory several times.
Evil Old Folks: Momma to the End. Aversion: see Reality Is Unrealistic. She's also an Evil Matriarch.
Fantasy Sequence:

Owen imagines killing his mother several times over the course of the movie, with poisoned soda, with scissors through her ears, and by bowling.
Larry has a fantasy of strangling his wife. He then imagines he's strangling himself.

Femme Fatale: Margaret.
Five-Second Foreshadowing: Owen's book Mama and Owen and Owen's Friend Larry ends with the trio having a picnic in a park. Cut to Larry, Owen and Beth having a picnic on the beach.
Frying Pan of Doom: The Signature Scene of the film. Owen lies and says Larry is his cousin Paddy. When Momma retorts he doesn't have a cousin Paddy, Owen looks at Larry and whacks him over the head with a frying pan, exclaiming, "You lied to me!"
Gainax Ending: In-Universe, the way Larry ends his book Throw Momma From the Train: "Hate makes you impotent, love makes you crazy, somewhere in the middle you can survive."

Owen: It's cryptic!note

Gosh Dang It to Heck!: One of Larry's students who overheard Larry screaming, "That slut! I hate her, I wish she was dead!" tells the police, "He called her a very bad name, and screamed, 'I hate her, I wish she were dead.'"
---