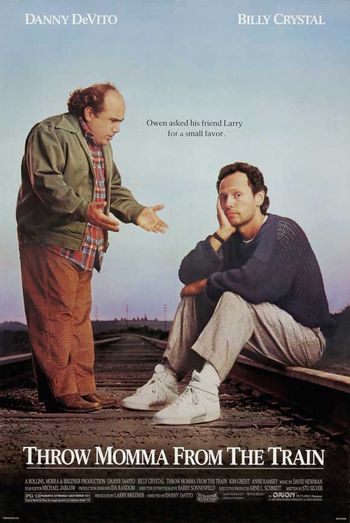 Throw Momma from the Train is a 1987 Black Comedy directed by Danny DeVito (his directorial debut), who stars along with Billy Crystal.
Writer Larry Donner (Crystal), suffering from severe writer's block, has taken to teaching writing to aspiring (if not necessarily talented) would-be writers, and thus meets simpleton Owen Lift (DeVito). Larry is wracked with jealous rage over his ex-wife Margaret (Kate Mulgrew), who became a world-famous author after stealing his book and publishing it as her own. Owen, meanwhile, fantasizes about offing his abusive Momma (Anne Ramsey).
After being instructed by Larry to see some Hitchcock films to help him learn how to write murder mysteries, Owen comes to believe Larry was secretly sending him a message to exchange murders after watching Strangers on a Train: Owen is to kill Margaret, and Larry is to kill Owen's monstrous mother. Larry becomes entwined with the idiot "couch potato" when he goes on the lam from being a major suspect in Margaret's murder, since Owen failed to tell him of his intent and didn't allow Larry to create an alibi.
Anne Ramsey earned an Academy Award nomination for her role as Momma, and passed away a year later.
---
"Throw Momma from the Tropes":
---