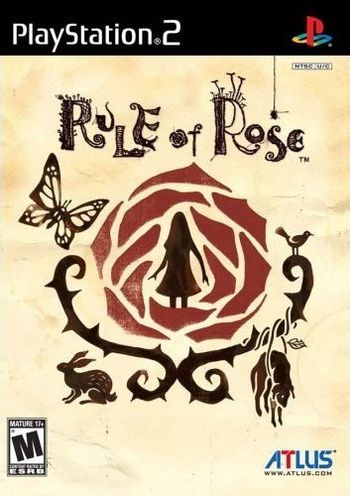 Rule of Rose is a 2006 adventure/survival horror game developed by Japanese studio Punchline (whose only other game was Chulip) and published by Sony Computer Entertainmentnote later released by Atlus in North America and by 505 Game Street in Europe for the PS2. It is set in an orphanage/airship in post-war England... or is it? It should be noted before going any further that the entire game is difficult to summarize for all sorts of reasons: the elaborate use of Fairytale Motifs, the narration, the setting (and the setting... and the setting), the surrealist horror aesthetic, and the purposely uneven story-telling. All of this is used to weave a broken fairytale about thoughtless cruelty, wrecked love and childlike longing for an idealized adult reality, culminating into an unusually thoughtful and heartbreaking story of self-actualization and growing up.
Yes, it's still a Video Game. And a Mind Screw. And a pretty good one at that.
The plot revolves around a nineteen-year-old unlucky girl named Jennifer, who becomes trapped in a world run by young children who have established a rigid and cruel class hierarchy called the Red Crayon Aristocrats. Her only solace is Brown, her partner and best friend. During each chapter, Jennifer has to honor a demand from the Red Crayon Aristocrats on pain of death, and in the process, she pieces together clues and recalls forgotten memories about her role in the Red Crayons' world. Each chapter of the game is introduced with a storybook that loosely describes what the chapter is about and which of the characters it focuses on.
Gameplay consists mostly of finding items with Brown's help, giving him an inventory item to sniff, then letting him guide Jennifer through the environment to whatever it is he's found. All plot-important items and most health restoring items (instead of potions, various treats and chocolate are used) must be found in this way. Other items, such as marbles and ribbons, have no immediate use, but may be traded with the Aristocrats. Combat tends to occur as the events in a chapter come to a climax; enemies will often appear seemingly from nowhere, allowing Jennifer to use a variety of improvised weapons, such as a kitchen knife, an ice pick, or a hatchet.
Oddly enough, not the rule that requires all shoujo anime to have a plethora of roses about.
Warning, spoilers below. This game is best experienced without prior knowledge of its plotline.
---
This game provides examples of the following tropes:
Break the Cutie: The game focuses on Jennifer's suffering, but

Amanda, Eleanor, Clara, Meg, Wendy and Gregory all have breakdowns at some point or another

.
Brown Bag Mask: The Aristocrats are seen wearing these early in the game, and later on some imps are seen wearing them as well.
But Thou Must!: Early on, Jennifer is given a series of mildly threatening yes-or-no questions while tied to a pole. No matter what you answer, the outcome is unchanged, and the trope is lampshaded when the interrogator tells Jennifer that her opinion and choices don't matter - they're the one making the rules around here. This arguably sets up the recurring theme of helplessness surrounding Jennifer.
Cassandra Truth: That whole "strange man abducting children" thing is just a figment of your imagination, Martha. Nothing to be worried about in the least.
Chain of Deals: The game is made of this, since the majority of the gameplay requires you to trace your way through a series of Plot Coupons until you retrieve whatever tribute the Red Crayon Aristocrat Club is demanding that month. Same goes for tracking all kinds of health and other items, which in turn leads to more health items.
Chekhov's Gun: A sneaky example thereof.

Gregory is seen aiming a revolver at his head in one chapter, contemplating suicide. In a later chapter, you're given a revolver called "Gregory's Gun" and promptly face Gregory in a boss fight. The normal thing to do would be blast him with it, but by giving him back his gun rather than fighting him, he will kill himself instead.
Controllable Helplessness: Both times Jennifer is tied up, you can make her struggle.

The second time, you have to make her call for Brown's help.
A Day in the Limelight: The game has an episodic structure in the style of a TV series, where most of the episodes puts one of the Red Crayon Aristocrats into the spotlight.
Dead All Along:

Everyone except Jennifer is just a memory.

Degraded Boss: Every new enemy type Jennifer encounters is presented as a one-on-one boss fight, but soon after you're fighting the new type by the truckload.
English Rose: Jennifer presents the intriguing concept of a classic English Rose forced into a Resident Evil-style survival horror environment. Jennifer is a timid, fair, soft-spoken young English woman who seems weak and can be easily pushed about by others, although this is understandable considering the situation she is forced into. However, she is actually very determined and loyal, being able to endure the bullying and punishments. In this regard, she can be viewed as a strong character.
Ephebophile: Mr. Hoffman. And most certainly not depicted favorably, though there is a measure of sympathy afforded if the player reads his diary in the Playable Epilogue.
Everything Talks: Inanimate objects, such as scissors, locked doors, save points, and inventory bins speak to the protagonist every now and then.
Faint in Shock: Jennifer keeps fainting at the slightest provocation during the early cutscenes; they actually tend to mark the borders between chapters. But when she finds her inner courage in the last chapter, she can watch far more traumatizing sights than all the previous ones put together and keep her consciousness.
Fake Difficulty:

As is common with horror games, combat is rather difficult as a way of making the player feel helpless, and making the protagonist appear out of their depth. It's even subtly lampshaded: Jennifer covers her eyes during some attacks, explaining why she often has trouble hitting her opponents.
As is ALSO common with horror games, the player can subvert this by finding a way to be cheap with their attacks. In this case, going around the opponent and spamming the first hit of a weapon's combo by releasing the 'combat-stance' button between hits will typically lock the enemy into hitstun, damaging them with no real chance of retaliation.
Heal Thyself: With biscuits, lollipops, candy, scones, shortbread, minced pie and two flavors of chocolate. Jennifer can heal Brown with chicken, bacon and bones as well.
Hide Your Children: After the final boss fight, when Jennifer walks outside of the orphanage;

instead of seeing the bodies of all the children, she only sees their clothes

.
Kick the Dog: Everyone except Jennifer hates Brown.
Kick Them While They Are Down: Jennifer has a stomp attack that's usable on downed enemies, but it's slow and has a tiny hitbox, and enemies are invincible during their lengthy standing-up animation, making it borderline useless.
Life Meter: A squiggly red chalkboard line for Jennifer in the inventory screen, but no meter for Brown for some reason. They both have stick-figure representations of themselves next to the red line, which become more tired-looking as they take damage.
Primal Stance:

Stray Dog/Gregory walks on all fours like a dog, appropriately enough.
The Quiet One:

Jennifer doesn't have much to say to the kids that are constantly bullying her.

At first.

Eleanor, by virtue of her emotionless demeanor. Even during Aristocrat Club meetings, she only speaks when they start chanting, despite being the third highest in ranking (after the Princess and Diana).
---