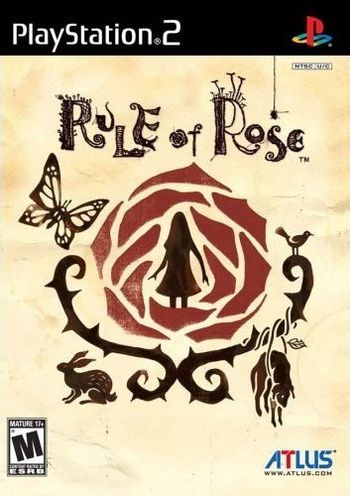 Rule of Rose is an adventure/survival horror game for the PS2 set in an orphanage/airship in post-war England... or is it? It should be noted before going any further that the entire game is difficult to summarize for all sorts of reasons: the elaborate use of Fairytale Motifs, the narration, the setting (and the setting... and the setting), the surrealist horror aesthetic, and the purposely uneven story-telling. All of this is used to weave a broken fairytale about thoughtless cruelty, wrecked love and childlike longing for an idealized adult reality, culminating into an unusually thoughtful and heartbreaking story of self-actualization and growing up.
Yes, it's still a Video Game. And a Mind Screw. And a pretty good one at that.
The plot revolves around a nineteen-year-old unlucky girl named Jennifer, who becomes trapped in a world run by young children who have established a rigid and cruel class hierarchy called the Red Crayon Aristocrats. Her only solace is Brown, her partner and best friend. During each chapter, Jennifer has to honor a demand from the Red Crayon Aristocrats on pain of death, and in the process, she pieces together clues and recalls forgotten memories about her role in the Red Crayons' world. Each chapter of the game is introduced with a storybook that loosely describes what the chapter is about and which of the characters it focuses on.
Gameplay consists mostly of finding items with Brown's help, giving him an inventory item to sniff, then letting him guide Jennifer through the environment to whatever it is he's found. All plot-important items and most health restoring items (instead of potions, various treats and chocolate are used) must be found in this way. Other items, such as marbles and ribbons, have no immediate use, but may be traded with the Aristocrats. Combat tends to occur as the events in a chapter come to a climax; enemies will often appear seemingly from nowhere, allowing Jennifer to use a variety of improvised weapons, such as a kitchen knife, an ice pick, or a hatchet.
Oddly enough, not the rule that requires all shoujo anime to have a plethora of roses about.
Warning, spoilers below. This game is best experienced without prior knowledge of its plotline.
---
This game provides examples of:
Blog: While many fandoms have an online place where they discuss the work in question, Rule of Rose Mysteries takes it to a completely different level, deconstructing the game, analyzing the characters, and piecing together the story. The blog itself is gone, but its YouTube channel remains.
---