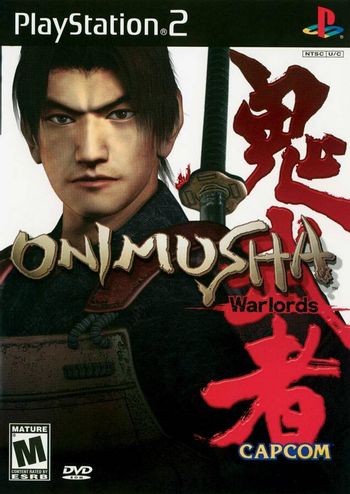 Onimusha: Warlords (2001) was the first game of the Onimusha series published by Capcom. Onimusha: Warlords is, essentially, an Action-Adventure game with elements of Survival Horror and feudal Japan as background. It was released for the PlayStation 2 in January of 2001, and later for the Xbox in January of 2002 under the title Genma Onimusha.
The story is set in Japan, during the Warring States period: ruthless feudal lord Oda Nobunaga is felled by an arrow to the neck during the historical battle of Okehazama. Several months later, Samanosuke receives a letter from his childhood friend Princess Yuki of Inabayama: according to her, strange events are plaguing the castle, people are vanishing and she's deeply afraid. Samanosuke, with his loyal sidekick and love interest Kaede, arrives at the fortress, only to witness the appearance of monsters, which proceed to kidnap Yuki in front of his eyes and knock him out cold, proving impervious to his sword. However, Samanosuke is visited by the spirits of the Oni Clan, who bestowed him the power of the Oni Gauntlet to slay demons and drain their souls. Armed with the power of the Oni Clan, Samanosuke must stop the Genma demons, who have taken over Inabayama, revived Nobunaga Oda, and plan to turn him into a loyal, unstoppable vassal to take over Japan.
In a way similar to Resident Evil, this game has you explore a large castle with secret passages, traps, gardens, and dungeons while solving puzzles, fighting demons, and upgrading your weapons to explore every nook and cranny as you fight a variety of monstrous demons with both magic and weapons. Features returning in the following games would also be the setting (3D-rendered actors moving on a 2D scenery), Ink Suit Actors, sometimes narmy dialogues, Tank Controls and limited save points which you can also use to increase the power of your weapons.
Followed by Onimusha 2: Samurai's Destiny
A remaster of the game for PlayStation 4, Xbox One, Nintendo Switch, and Steam was released on January 15, 2019. It features many updates from the original, including upscaled visuals, a re-recorded soundtrack, an Easy mode available from the start, the ability to switch weapons without pausing the game, and a more modern control scheme including full analog stick support. However, since it is based on the original PS2 release, the extras from Genma Onimusha are not included.
---
Onimusha: Warlords contains examples of:
---