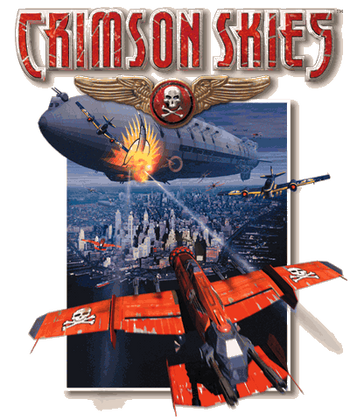 Hey, there, kiddo! You ever wanted to be a Sky Pirate? Well, then have we got the game series for you! Created by Jordan Weisman and Dave McCoy, Crimson Skies is a media franchise and fictional Alternate Universe in which the United States of America collapsed in the 1930s into a bunch of quarreling nation-states. With the collapse of the federal government comes the collapse of the interstate network of roads and railroads; but goods still need to be transported across state lines. Stepping up to the challenge are air cargo services based around massive cargo zeppelins; but with modern air shipping comes modern air pirates!
Basically, the series is an excuse to - in Jordan Weisman's words - "take the idea of 16th century Caribbean piracy and translate into a 1930s American setting." So far the series consists of a board game from FASA, a collectible miniatures game from Wizkids,a series of books and three arcade flight-based video games published by Microsoft Game Studios: Crimson Skies for the PC, an arcade version
and Crimson Skies: High Road to Revenge for the Xbox.
---
Setting contains examples of:
---