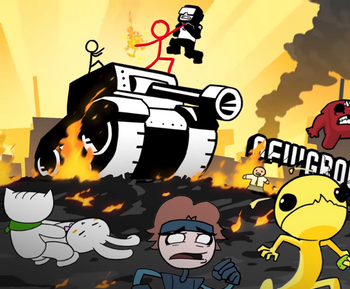 "You still don't get it, do you? The entire reason you sim troopers were allowed to live this long? It's because you're all losers. Control was confident that you'd do more damage to these people than they could ever do to themselves... Locus and I figure we let you rack up the casualty count, then kill you after a few weeks. But then, you did something special. You gave these people hope. And with that, came a new level of motivation. To fight harder, to die faster. All with the belief that their sacrifice might actually mean something. But you know what, it all means nothing! At the end of the day, if I'm stronger than you, and if I'm faster than you, then I can kill you. And that's better than anything money can buy."
Much like their western and film counterparts, Web Animation is not lacking in vile villains.
Animated Fan Works can be found here.
---
The following have their own pages
<!—index—>
Other examples
open/close all folders
A - P
Q - Z
Red vs. Blue: In a universe that runs on Comedic Sociopathy, these villains are more sociopathic than comedic.
Rest In Peace (link): The Governor is seemingly just a friendly official in a happy, nameless town. Actually a man-eating demon, the Governor uses his influence to keep citizens ignorant of the dangers of an ever-growing hole to which he is connected. Organising the carnival in the name of his latest victim, Governor uses the opportunity to get rid of two protesters who spoke against him, showing them his true form before eating them.
Sherwood (2019): The Sheriff of Nottingham is the ruler of the now-almost-entirely-sunken London. At some point in the past, he gained the trust of "King John" and imprisoned him, leading everyone to believe that the King's will was for him to rule in his absence. He wastes no time creating a totalitarian regime where the wealthy upper class uses Lovecraftian-like robots to steal rations and medicine from the lower classes, leaving them starved and prone to disease. Hating his dependence on the lower classes to survive, the Sheriff spends most of the series hatching a plan to make the Upper City mobile, which damages the ecosystem further in the process. Next, he sends his robots to steal all food and medicine, leaving the citizenry to suffer a particularly violent epidemic that makes the victim cough blood before dying. When the protagonists try to contain the explosion of a power reactor, the Sheriff, now accepting of death. refuses to help them. On top of everything, he is also an abusive father, a sadist, and he attempts to kill his only ally once he sees no more use for him.
Something Scary:

The Gator Man of Elmendorf: The titular Gator Man, Joe Ball—loosely based on the real Serial Killer—seems to be a friendly bartender, who secretly lures or kidnaps women to feed to alligators on his farm. He is considered a local hero for leading the search for one of him youngest victims, earning the trust of said victim's family. Ball maims and kidnaps a man looking for his sister Ball kidnapped, intending to feed them both to the gators; said sister is being forced to participate in his crimes, and is seen feeding the gators a severed arm. When exposed, Ball intends to kill the detective investigating him, and when incapacitated, throws himself into the gator pit to avoid being arrested, laughing maniacally as he's eaten alive.
The Monster Who Mocks: The titular monster of this shory—dubbed the Mimic—is a humanoid shapeshifting creature who approaches a delinquent boy being disciplined at a boot camp. The Mimic makes a deal with the boy and tells him it can give them both what they want before taking his form. The Mimic proceeds to set the boy up for a series of dangerous and deadly pranks around the camp, continuously getting him into trouble. When the boy goes to confront the Mimic, the true horror is revealed; the Mimic knocks the boy out and he awakens to find his school reduced to a flaming wreck, with the Mimic slaughtering and devouring staff and students alike, assimilating their body parts. The Mimic sarcastically thanks the boy for the opportunity, before disappearing into the woods.
Spring Heeled Jack: The titular Spring-Heeled Jack is a demon that terrorizes Victorian England, preying on children during night hours. Jack prides itself in the terror he instills in his victims, using their fear to strengthen himself. Capturing the brother of a girl he earlier kidnapped, Jack attempts to eat one of them and force the other to watch. Blown apart by his would-be victims, Jack vows to return to exact vengeance on them and their descendants for trying to stop him.

Sunset Paradise: Sir Benedict Cumbersnatch is the leader of the Port Aurora Crime Syndicate. Once a powerful crime boss, Benedict attempted to steal the Phoenix Egg to use it ashes to become immortal and make a criminal empire that will last forever, uncaring that this will cause death and ruin to come to Port Aurora. Benedict is stopped and sealed inside an egg-shaped body by Sheriff Aloysius Bori, but only after mortally wounding the latter. Returning 100 years later, Benedict forms a crime syndicate to help him with his plans, while also ordering the Spud Buds to kill Aloysius' grandson, Auri Bori, just to spite his deceased Arch-Enemy. When Meggy and Auri interfere with his plans, Benedict has the Funky Fource frame them for attempting to assassinate Mayora Bora, before attempting to kill the duo with a bomb. Upon taking over Port Aurora's lighthouse, causing pain to several children in the process, Benedict has his minions rampage throughout the island, uncaring if anyone gets killed in the process. When confronted by Meggy and Auri, Benedict manages to kill Auri by attempting to shoot Meggy with a laser, forcing Auri to sacrifice himself to save her, before proceeding to gloat about it and attempts to use the Phoenix Egg to restore himself to his original form and resurrect his criminal empire.
Unclassified Encounter:

Lucius Varus, in the distant past, was a soldier for the Roman Empire. During one of their many big battles, Lucius's entire army was killed by an enemy, and Lucius was mortally injured. Lucius, in an effort to survive, would start eating the dead body of one of his fallen enemies, discovering that he could gain immortality by eating human flesh. Lucius returned to Rome and started luring people to him so he could kill and eat them to keep himself alive. After the Roman Empire fell, Lucius would become a traveller going from place to place and participating in anything that would retain his immortality. Lucius would participate in many historical atrocities including assisting Elizabeth Báthory, the Sawney Bean group of cannibals, as well as personally being responsible for the Jack the Ripper killings, the Man from the Train slayings, and the Hinterkaifeck killings. In "Episode Five: ELAH", Lucius disguised himself as a doctor on the British ship the Bickleigh Bridge. When one of the people on the ship recognized Lucius as the one who murdered her family, Lucius tries to kill her.
"Episode Three: NERTHOL": The unnamed alien was sent by its superiors to scout out humanity for an unknown mission. The unnamed alien attacks the RAF Pengam Moors, launching a beam weapon at it that instantly destroys it, killing thousands of people in the process. The alien then goes onto the ground inside a high-powered suit and kills anyone that survives his initial attack, viewing humanity as nothing more than pests that need to be eliminated.
"Episode Five: ELAH": Captain Krancke is captain of the Admiral Scheer, working for the German Army during World War II. In an effort to weaken the British forces, Krancke is leading a massive campaign to sink various British merchant ships, in an effort to prove to his superiors that this idea is effective so he can have the approval to sink even more British merchant ships. Captain Krancke attacks the Bickleigh Bridge after sinking another ship previously, killing many people in both of these sinkings.

The Walten Files' "The Mysterious House": The Pumpkin Rabbit is a robotic, masked rabbit who invites two children named Duckie and Tammy to his house to stay over for the night. In reality, however, he's a sadistic Serial Killer who has been killing children like this for what's implied to be years. Once Tammy enters one of the rooms in the house, she finds the mutilated corpses of Duckie and three other kids who met the same fate before them. Once the Pumpkin Rabbit sees her, he kills and mutilates her corpse too, escaping without any punishment for his crimes.
---