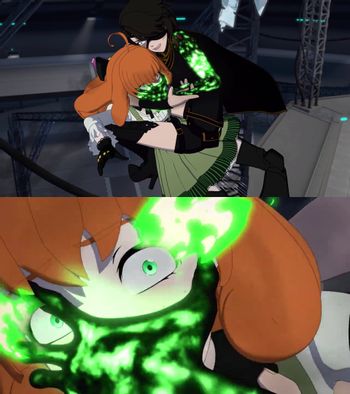 "Look how they run!" The God of Darkness laughed. "Look how they die." Troubled, the God of Light did what he could to repair the damage and rebuild the lost lives, but each time he did, the God of Darkness invented some new catastrophe to destroy them-and worse, make them suffer as they died. All while his Dark nightmare beasts multiplied and spread throughout the world.
The world of Remnant has seen many legendary heroes throughout the ages, but with them, it has seen monstrous villains who manage to be just as legendary.
---
Web Series
Literature
Before the Dawn: Jax Asturias, the mastermind of the Crown, is a childish and envious man with delusions of grandeur. Manipulating his close friends and sister into going along with his plans to restore the Vacuo monarchy with him in charge, planning to purge the "weak" and anyone who wasn't loyal to him, Jax uses the Crown to have countless people, including children with notable Semblances, trafficked and enslaved with his Semblance, leaving them conscious but bent to his will. As part of his plan to attack Shade Academy, Jax turns several citizens and minions who displease him into "Aura vessels" to make himself stronger, hoping to use his army to crush the other Kingdoms under his heel, bury them in the sands and rule all of Remnant once he's king. When his plan is failing, Jax "settles" for using his Army to go out destroying Shade and his enemies out of spite, even attempting to kill his own sister when she tries to save herself—an act he had also attempted when they were children.
Fairy Tales of Remnant:

"The Infinite Man": The warrior is a thuggish Blood Knight who invades the Circle's town to "fight a God", attacking men, women, and children alike to draw out the Infinite Man. She then manipulates the Man, claiming that she will spare the Circle if he allows her to kill him, only to go back on her word and massacre the whole community, killing everyone but the Man's right-hand-woman so she could tell the story, but not before the warrior mutilates her, slicing off her arm and cutting out her eye.
"The Two Brothers": The legendary version of the God of Darkness is a malignant sadist of a deity who sees all of creation as a toy box to torment for his entertainment. Desiring to destroy everything Light created, Darkness wipes out early life on Remnant several times with gleeful relish, raining down fiery ash, boiling the oceans, and creating horrific beasts known only as "the Grimm", who exist only to kill and destroy everything good. After creating humanity with Light, he torments them with disasters like earthquakes and creates more Grimm to wipe them out in experiments. In a fight with his brother, which causes catastrophe and death throughout the world, he nearly allows the world to burn simply to continue fighting Light. After nearly destroying all of creation so that the Gods could regain their essence and leave, Light strikes a deal with Darkness to give Humanity a chance, with Darkness only agreeing on the condition that everything will burn if humanity does not achieve perfection.

Roman Holiday: Paul Parrot is the psychopathic leader of the Parrot and Mouse Syndicate, having killed his uncle to take it over. For years, Parrot would have his enemies taken to his basement and eaten alive by his captured "Capivara Grimm", which he recorded, as he enjoyed watching his victims die. Admitting to Roman Torchwick that he enjoys his war with Lil Miss Malachite as it reminded him of the "good old days", Parrot then tries to have Roman and two children fed to his beast.
Other Media, by release date
The Official Manga: Roman Torchwick, lacking his show counterpart's redeeming qualities, is a destructive sociopath and one of the most infamous criminals in Vale. He teams up with Cinder Fall and executes her schemes, organizing an attack on the city of Vale and planning to blow up a large section of the city's downtown area. At one point, he has Ruby Rose tied up, intending to have the White Fang torture her to death, and gleefully reveals that the purpose of the attack on Vale was to cause a Grimm invasion, which would destroy not just the city but the entire kingdom.
Grimm Eclipse: Dr. Merlot is a Grimm-obsessed scientist who founds Merlot Industries to conduct experiments on them, seeking to attract more when he ran out of subjects and having the Grimm attracted to a nearby city to work around his problem, resulting in the population being overrun and slaughtered. Moving to a remote island, Merlot creates a stronger version of the Grimm, which he releases into nearby areas where they may attack and kill as they please. Attempting to kill off Team RWBY when they come to investigate his island, when they defeat his ultimate creation, a spiteful Merlot sets his laboratory to self-destruct with all of them inside.
---