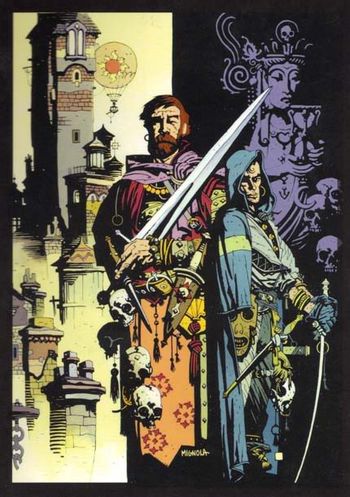 "Now about Lankhmar. She's been invaded, her walls breached everywhere and desperate fighting is going on in the streets, by a fierce host which out-numbers Lankhmar's inhabitants by fifty to one — and equipped with all modern weapons. Yet you can save the city."
"How?" demanded Fafhrd.
Ningauble shrugged. "You're a hero. You should know."
One of the most seminal pieces of Sword & Sorcery was Fritz Leiber's Fafhrd and the Gray Mouser series of short stories and novellas. Set in the world of Nehwon (except for one story set on Earth), often in the city of Lankhmar, it starred Fafhrd, a seven-foot tall barbarian from the North, and the Mouser, a trickster thief and former wizard's apprentice, who find and befriend each other one day. To quote Wikipedia: "They spend a lot of time drinking, feasting, wenching, brawling, stealing, and gambling, and are seldom fussy about to whom they hire their swords. But they are humane and — most of all — relish true adventure."
A massive source for inspiration for much of modern roleplaying, specifically Dungeons & Dragons, either directly or indirectly, and pretty much any swashbuckling fantasy story written after about 1970 or so probably owes a debt to these stories. The fact that the most important city in most of the Discworld stories is called Ankh-Morpork is absolutely no coincidence, too; expies of Fafhrd and the Mouser show up in the first chapter of the first book, after all.
There are seven books containing all the stories: Swords and Deviltry, Swords Against Death, Swords in the Mist, Swords Against Wizardry, The Swords of Lankhmar, Swords and Ice Magic, and The Knight and Knave of Swords. There is also the authorized novel sequel Swords Against the Shadowland by Robin Wayne Bailey.
---
This series provides examples of:
---