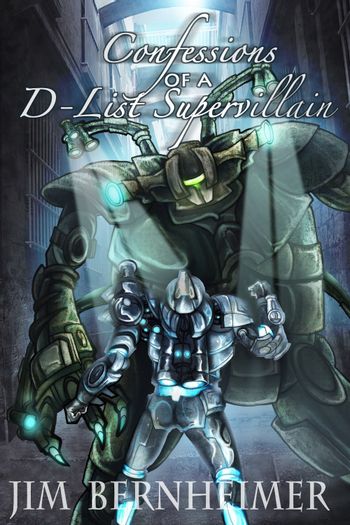 "Being a supervillain means never having to say you're sorry... Unless it's to the judge or the parole board. Even then, you don't really have to. It's not like it's going to change the outcome or anything."
Those are the words of Calvin Matthew Stringel, better known as Mechani-Cal. He's a sarcastic, down on his luck armored villain. Follow his exploits as he gets swept up in a world domination scheme gone wrong and ends up working for the weak willed, mercy loving heroes. Immerse yourself in his epic battles and see what it's like to be an outsider looking in at a world that few have ever experienced.
Confessions of a D-List Supervillain is an independent superhero series. It chronicles the efforts of a minor armored supervillain in his efforts to save the world from mind-controlling bugs lest he join the ranks of the Evil Overlord's many slaves. At the end of the day, we have to ask, what is heroism?
Works in the series
Novels:
Confessions of a D-List Supervillain
Origins of a D-List Supervillain
Secrets of a D-List Supervillain
Rise of a D-List Supervillain
Spin offs:
Thugs, Lies,and Spies in Horror, Humor, and Heroes volume 4 (A Hillbilly Bobby novella)
---
open/close all folders
The entire series
The entire series contains the following tropes:
Confessions of a D-List Supervillain
Confessions of a D-List Supervillain provides examples of the following tropes:
Origins of a D-List Supervillain
Origins of a D-List Supervillain provides examples of the following tropes:
Secrets of a D-List Supervillain
Secrets of a D-List Supervillain contains the following tropes:
Rise of a D-List Supervillain
---