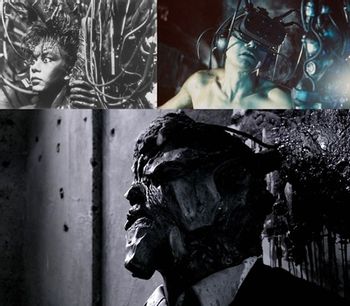 "Our love can put an end to this
fucking
world!"
—The Metal Fetishist
Tetsuo: The Iron Man is a 1989 Japanese cyberpunk Body Horror film by cult film director Shinya Tsukamoto. This, his third film, is an extremely graphic but also strikingly-filmed fantasy shot in the same low-budget, underground-production style as his first two films. Tetsuo established Tsukamoto's fame and created his worldwide cult following. It was followed by two sequels, Tetsuo II: Body Hammer and Tetsuo III: The Bullet Man.
It follows the tale of a man who, after hitting a metal fetishist with his car, attempts to hide the mess by dumping the body into a ravine. To his dismay, he finds that the dead man is getting his revenge — by forcing the driver to transform into a walking heap of scrap metal.
Not to be confused with that Tetsuo or that Iron Man, though there are certainly similarities with the former.
---
This movie contains examples of:
Abandoned Warehouse: The final confrontation between the Salaryman and the Metal Fetishist in the first film takes place in one of these.
---