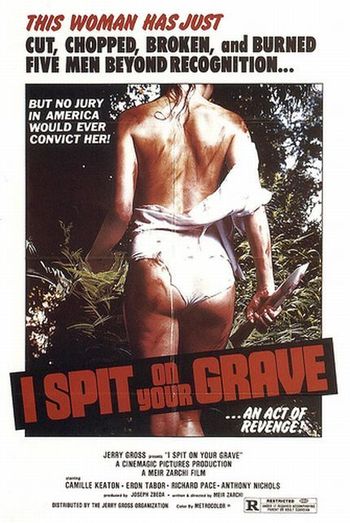 "Suck it, bitch!"
—Jennifer Hills
I Spit on Your Grave — an infamous 1978 grindhouse Rape and Revenge Exploitation Film also known as Day of the Woman — follows the story of Jennifer Hills, an aspiring writer from New York who rents a riverside cabin out in the woods so she can work on her first novel in peace. She catches the eye of four local rednecks (Johnny, Andy, Stanley and Matthew, the last of which seems mentally handicapped) who take a shine to Jennifer and decide to harass her while she sunbathes. That night, the rednecks break into her cabin and harass her while she lies in bed. The day after that, the rednecks kidnap her from her boat, pull her ashore, and brutalize her in some of the lengthiest, most realistic, and goddamned disturbing rape scenes in film history. (They also mock and rip up her novel.)
After the rapists leave the scene of their crime, they order Matthew — who had previously shown some affection for Jennifer and didn't want to participate in the rapes — to go back and kill her. Matthew cannot bring himself to do it, so he smears blood on the knife to make it look like he did. Thanks to Matthew's mercy, Jennifer eventually recovers, and over the next few days, she goes on her own personal Roaring Rampage of Revenge. She starts by seducing Matthew before she hangs him from a tree. She then finds Johnny and holds him at gunpoint — and then she invites him back to her house, where she takes a bath with him, castrates him with a kitchen knife, and leaves him to bleed to death. To cap her rampage off, she swims out to Andy and Stanley's boat, pushes them overboard, then axes one in the back and disembowels the other with the propeller — and before she finishes the job, she shouts out exactly what he had told her while he raped her: "Suck it, bitch!".
Director Meir Zarchi reportedly got the idea for the film after he assisted a rape victim in Central Park. Camille Keaton, grand-niece of Buster Keaton and Meir Zarchi's wife at the time, played the role of Jennifer. The film ended up placed on Britain's infamous Video Nasties list, and as such, it carries a certain level of infamy to this day.
Roger Ebert hated this film
.
There was a pseudo-sequel called Savage Vengeance, shot in 1988 but unreleased until 1993. A 2010 remake adds a new character, Sheriff Storch, and a stylistic difference from the original: the middle act of the film follows the gang of rapists rather than Jennifer by showing a montage of the rednecks going on with their lives before strange things begin to happen to them (in a way reminiscent of I Know What You Did Last Summer). The effect of this change makes it look as if each redneck fears that someone knows what they did — or that one of them has turned on the others.
Roger Ebert didn't like the remake, either.
(He probably would have felt the same way about the remake's sequels if he had lived to see them.)
In 2019, 40 years after the original, a direct-to-video sequel titled I Spit On Your Grave: Deja Vu was released. It revolves around Jennifer Hills, who after being acquitted of the revenge she enacted on her rapists, is now a successful author after writing a book of her experience, and has a daughter of her own named Christy. But soon both Jennifer and Christy are kidnapped by the families of Jenniferís rapists, who are planning to enact some revenge of their own.
---
I Spit On Your Grave (1978) and Deja Vu contain examples of the following tropes:
The 2010 remake of I Spit On Your Grave and it's two sequels contain examples of the following tropes:
---