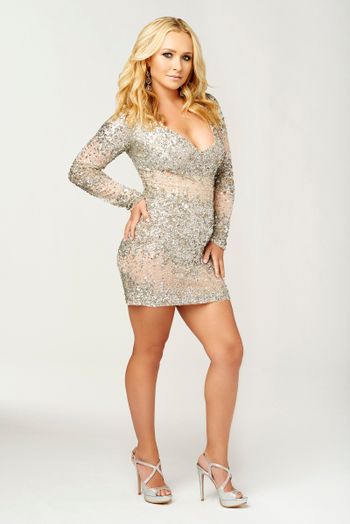 "Hi! I'm
Hayden Panettiere
,
and I'm hot enough that I know I have your attention for at least 30 seconds."
Hayden Leslie Panettiere is an American actress, model and singer. She was born on August 21, 1989 in Palisades, New York to a firefighter father and an actress mother, and was steered into the latter profession at an early age (think months).
Panettiere was known for her roles on the soap operas One Life to Live and Guiding Light and for her work in Disney films (most famously A Bug's Life and Remember the Titans, though she was never a big-name Disney star) before her Star-Making Role as Claire Bennet on Heroes turned her into a star, and a heartthrob for teenage boys. Since then, she continued to do voiceover work (for projects ranging from Robot Chicken to American Dad! to Hoodwinked Too! Hood vs. Evil) and live-action roles (Amanda Knox: Murder on Trial in Italy, Scream 4, Nashville). She took a hiatus from on-screen work for a number of years, and made her first appearance back in Scream VI, reprising her role from Scream 4.
Panettiere became the mother of Kaya Evdokia Klitschko on December 9, 2014 with her then-husband Wladimir Klitschko. She voluntarily checked herself into treatment for postpartum depression in October 2015 — and returned to treatment in May 2016, seeking healthier ways of dealing with it (which some fans suspect contributed in ABC's cancellation of Nashville). She divorced Klitschko in 2018, and began dating Brian Hickerson. However, the pair split in 2020 after Hickerson was arrested on charges consistent with domestic abuse. Panettiere issued a statement in the wake of the news calling for other domestic violence survivors to come forward with their stories; she has reportedly remained friends with Hickerson since he was released from jail.
Panettiere has accounts on Twitter
and Instagram
. There is also a band who named themselves in her honour
.
---
Notable credits with TV Tropes pages:
---
This actress contains examples of:
---