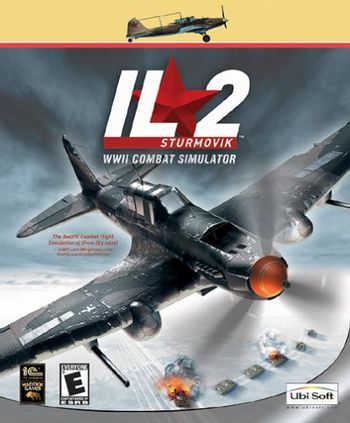 IL-2 Sturmovik is a World War II Combat Flight Simulator for the PC. It was originally started by Russian game developer Oleg Maddox
as a hobby garage project featuring the famous Soviet ground attack plane, which also lent the game its name. It was kept even after the game got heavily expanded and commercially released, spawning this juggernaut of a series shortly afterward. The branding has stuck to the point where the formerly-titled sequel Storm of War: Battle of Britain is now IL-2 Sturmovik: Cliffs of Dover.
The game, along with its 3 main sequels and numerous expansion packs, features literally hundreds of planes (most of them flyable), dozens of detailed gameplay maps in every possible theater of the war and also the opportunity to fly as some of the less famous Axis and Allied powers (e. g. Finland, the Netherlands, Italy, Romania, Slovakia, Australia, New Zealand, and the French and Polish resistance). The expansion pack IL-2 Sturmovik: 1946 features several Alternate History campaigns with many American, German and Russian prototype planes
that never made it into service during the war (many of them early jet fighters).
The difficulty and accuracy of the flight mechanics are extremely scalable, making the game accessible to pros and amateurs alike. You can easily customize the difficulty and realism
◊ of flight and air combat, turning the game either into a semi-realistic arcade dogfighter or a punishingly realistic Nintendo Hard flight sim. The game also offers a lot of freedom for creating custom missions and campaigns in its simple and intuitive Level Editor, and is generally opened to adding player-created custom content (including the possibility to add your own skins for the various aircraft or new music and sound files into the game). There's a giant fan community and tons of game mods in addition to the official releases. It's no secret that part of the series' success lay in a dedicated modding community worldwide. A large part of the original modder projects even became official parts of the later sequels.
The series so far consists of these installments:
IL-2 Sturmovik (2001): The original that started it all. Universally praised by both critics and gamers, it's often credited with resurrecting and revolutionizing the whole combat flight sim genre.
IL-2 Sturmovik: Forgotten Battles (2003): The first stand-alone sequel, formerly announced as a mere expansion pack. Focuses mainly on less cited aerial theatres (e.g. skirmishes between the Finnish and Soviet air forces during the Winter War and Continuation War).
Forgotten Battles: Ace Expansion Pack (2004): The first expansion pack, which added several new nations and lots of other additional content to the first two games.
Forgotten Battles: Gold Pack (2004): Another expansion.
Pacific Fighters (2004): The one Oddly Named Sequel, adding aircraft carriers and focusing chiefly on the Pacific theatre in all its entirety.
IL-2 Sturmovik: 1946 (2006): The last main installment in the original series, featuring the aforementioned Alternate History elements.
Sturmoviks over Manchuria (2007): A small expansion pack that mostly added a few more campaigns.
IL-2 Sturmovik: Birds of Prey (2009): A console-exclusive title (though it got ported to PC as Wings of Prey shortly thereafter). Not officially part of the original series because the developer bought their rights, but generally considered an Adaptation Distillation Spin-Off of it for the console audience.
IL-2 Sturmovik: Cliffs of Dover (2011): The sequel formerly titled Storm of War: Battle of Britain.
IL-2 Sturmovik: Battle of Stalingrad (2014): 777 Studios, developers of Rise of Flight, take over development from 1C: Maddox Games, soft rebooting the series under the "IL-2 Great Battles" flag. The game touts an upgraded engine from Rise of Flight, offering higher graphical fidelity and realistic flight modelling. The game has since been given several standalone expansions, such as Battle of Moscow, Battle of Kuban, and Battle of Bodenplatte. A second western theater focused expansion called Battle of Normandy is coming soon. The game has also expanded with a WWI focused expansion titled Flying Circus and a tank focused expansion titled Tank Crew.
---
This game series provides examples of:
---
This series also completely (and notably) averts the following aviation tropes:
Air Jousting: However, there is one rare situation where this can become Truth in Television - when an enemy aircraft is coming directly toward you at high speed. The one who manages to shoot a burst of ammo at his adversary first, comes off as the victor in these instances...

Mind you this Trope is encouraged by some Real Life dogfighting Dictas (like Dicta Boelke for one) but only in certain circumstances like when there are a bunch of fighters on your six.
Most experienced pilots in multiplayer avoid head-on approaches like a plague because they put both aircraft in equally great danger of getting hit by bullets or the other plane, and instead elect to avoid the head-on and try to gain an advantage in angles or energy to get into good firing position.
By contrast, head-on approaches seem to be the only thing that inexperienced players ever do at the start of the engagement.

Bizarre and Improbable Ballistics: The devs are just as studious about projectile physics as the are about everything else.
Bottomless Magazines: Ammunition and fuel for your aircraft is not infinite and you have to keep an eye on them while flying a mission. However, a lot depends on what you've switched on and off in your realism settings, so you can play the whole trope straight if you like.
---