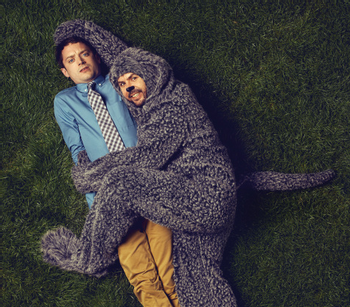 "Don't worry, I ain't gonna bite you. I can smell your fear like I can smell the sour milk in your fridge. I'm seven years old, and too wise for lies."
Wilfred is an American fantasy comedy series starring Elijah Wood as Ryan, a troubled young man, and Jason Gann as Wilfred, a dog who appears to Ryan as a man in a dog costume but as a normal dog to everyone else.
Family Guy showrunner David Zuckerman adapted the original Australian show into an American version for FX with a much more mysterious and psychological edge. In this version, the main character is Ryan, a depressed former lawyer who attempts suicide, only to be interrupted by his beautiful new neighbor Jenna and her dog Wilfred. Ryan and Wilfred form a tumultuous friendship as Ryan attempts to work through his problems and find a love life. Wilfred's motives and origin are a recurring mystery, and the show frequently teases various answers as to whether Wilfred is real or Ryan is insane.
---
This show provides examples of:
---