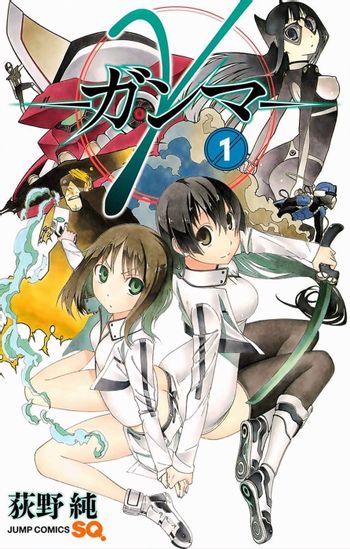 Also known as Y-Ganma.
On August 10, 2014, Earth was visited by not one but two warring alien races, who turned our planet into a giant battlefield. Humanity emerged victorious, but huge quantities of the alien "Lambda energy" were released onto Earth in the conflict, giving some humans superpowers and turning animals into giant monsters. To combat the emerging monsters and humans who use their superpowers for evil, humanity created the Earth Defense Force, which unites the precious few superheroes and scores of muggle support personnel to defend the planet against all manner of threats.
In the year 2075, two very affectionate sisters, Miyuki and Yuri Kitajishi, run the EDF Counseling Service in the Japanese town of Kataoka, helping superheroes and EDF employees alike deal with the psychological strain of their line of work. In-between that, they help EDF in their battles against monsters and supervillains, which seem to be getting more and more frequent in the region. And on top of everything, Yuri is actually the ex-Magical Girl Lily Cure — the greatest hero the world has ever seen, who has lost most of her powers but can use them briefly in time of dire need, at a heavy cost to her health.
Gamma is an Action-Adventure manga by Ogino Jun that borrows heavily from all manner of Super Hero and Yuri Genre stories. It was serialized in Jump Square from March 2013 to October 2014.
---
The manga provides examples of following tropes:
---