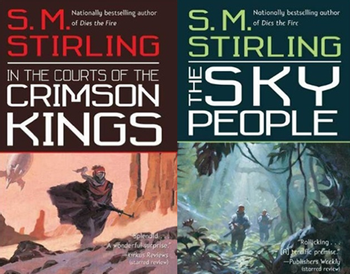 A series of
Alternate History
science fiction novels by
S. M. Stirling
. A
Reconstruction
of classic
Planetary Romance
novels and tropes for the modern audience, the novels explore a world built around a simple concept: what if Mars and Venus really were approximately like we envisioned them before all that boring reality got in the way?
The series thus far consists of:
The Sky People (2006)
In the Courts of the Crimson Kings (2008)
"Swords of Zar-Tu-Kan", published in the anthology Old Mars (2013)
As scientific observation of our nearest planetary neighbors intensifies during the early 20th century, it becomes clear that both worlds have oxy-nitrogen atmospheres much like our own. By 1948, the possibility of life on both is so strong that the Space Race kicks in early and keeps going, radically altering political history from that point on as the Cold War begins to lose importance and military spending is diverted to exploration. And when the Russians finally land a probe on the surface of Venus in 1962, the first image its cameras send back is of a dinosaur-infested jungle. And the second image is of a beautiful blonde woman in a Fur Bikini being chased by a savage horde of neanderthals.
Two months later, when the American Viking probe tells us about the canal-building biotech-using humanoid Martians, the race to land on both worlds shifts into high gear.
But once contact has been made and permanent scientific studies begin, oddities begin to creep up. For one thing, the humans of Venus are entirely too human to be a product of parallel evolution — a conclusion reinforced by the simultaneous discoveries that some tribes speak a language clearly descended from Indo-European, and that only two hundred million years ago the planet was an uninhabitable acid-veiled hothouse, becoming Earthlike practically in the blink of an eye as far as the cosmic time scale goes.
As evidence mounts that someone has been tinkering with the worlds of the solar system for millions of years, continuing right into the last few millennia, the question humanity must ask is: Who are the Lords of Creation, and what do they intend for their great multiplanetary experiment?
Not to be confused with Lords of Creation, a very weird role-playing game published in the mid-Eighties.
---
This series provides examples of:
open/close all folders
Series
The Sky People
In the Courts of the Crimson Kings
"Swords of Zar-Tu-Kan"
A Day in the Limelight: Sally Yamashita is the focus of the story and her mission to retrieve an American scientist. kidnapped by a consortium of east bloc interests and Martian radicals.
Evil, Inc.: The "professional coercives" mentioned previously are explored in more detail here, even if hired for a job they can also be paid to tell who hired them. They even have prewritten contracts for it.
Talking Animal: A guard dog that can literally talk accompanies Sally for free after failing in his literal job of defending her apartment.
---