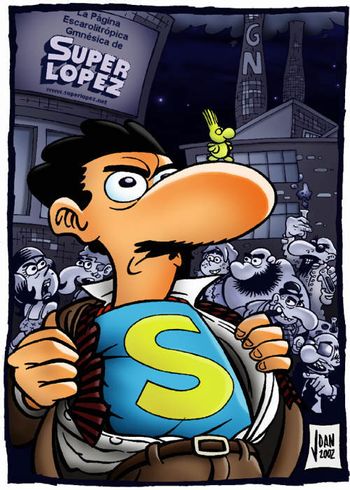 Superlopez is a Spanish comic book character created by Jan in 1973, a parody of Superman.
Born Jo-Con-Él (roughly translated as Damn-the-brat) on the planet Chitón (Old spanish slang meaning 'Shut up!') much like Superman's home planet of Krypton, he leaves his planet when he enters a spaceship and presses a button, an accident that sends him to Earth. He was raised by adoptive parents in Barcelona and concealed himself under the identity of office-worker Juan Lopez (which is actually author Jan's real name). He works with his girlfriend, the bad-tempered Luisa Lanas (parody of Lois Lane); Jaime González Lidenbrock (Superlopez's not so pally Jimmy Olsen); and his demanding, unnamed boss (a reference to Perry White).
Other recurring characters include Inspector Holmez (a reference to Sherlock Holmes), an excessively bureaucratic police officer who suspects everyone; Martha Holmez, the Inspector's teenage daughter and friend to Superlópez, and computer geek Chico Humitsec.
Recurring villains include the evil professor Escariano Avieso (probably the main Big Bad); Lady Araña ("Lady Spider"); the gangster Al Trapone (a reference to Al Capone); and the mob boss Refuller D'Abastos.
The franchise started off as a weekly comic strip, with a completely different setup from its modern day incarnation. For starters, López was married, in a borderline Awful Wedded Life to boot, and he received his powers from his suit. Also, the focus was in the slapstick humor, rather than in creating a narrative. However, like other Spanish comic books of its genre like Mortadelo y Filemón and Zipi y Zape, it eventually evolved into short stories, and then into long stories. Along the way, the franchise was completely rebooted to resemble more to the traditional status-quo of Superman (López wasn't married anymore, he always has his powers, and Luisa and Jaime were introduced).
After this reboot, but still in the early days of the character, Superlopez was member and leader of the team known as El Supergrupo (The Supergroup or Superteam). Team members included El Mago (The Wizard, a parody of Doctor Strange); Capitan Hispania (Captain Spain, a parody of Captain America); Latas (Tin-guy, a parody of Iron Man); Bruto (The Brute, a parody of The Thing); and la Chica Increíble (Unbelievable Girl, a parody of the token generic superheroine). These spent more time fighting one another over the leadership of the Supergrupo than fighting evil.
A live-action film starring Dani Rovira as Superlópez was released on November 2018.
---
This comic provides examples of:
Absurd Brand Name: The 25th anniversary special introduces a restaurant known as the "Salmo-Nella Ristorante". It is not clarified whether this was deliberate on the owners' part, but it is not entirely out of the question, as the restaurant was set up as a front by several members of Super's Rogues Gallery; yet, judging by a remark by Lady Araña, the business seems to be going surprisingly well.
Affectionate Parody: In Spain, the Supergroup stories are considered one of the finest parodies of the superhero genre.
---