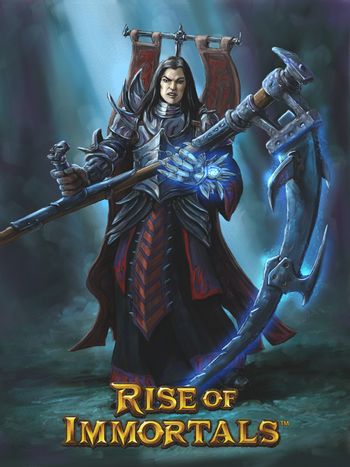 Rise of Immortals
(or
RoI
) was an online, free-to-play PC game that expands on the hit
Multiplayer Online Battle Arena
(MOBA) genre with new, innovative features designed to appeal to both core and casual players. It is Petroglyph's (of the
Command & Conquer
and
Universe at War
fame) first attempt on the genre.
Rise of Immortals is set in the world of Graxia, 300 years after the events of "Guardians of Graxia," Petroglyph's fantasy-based PC game released last year. Rise of Immortals features the popular action-strategy gameplay of traditional MOBA games, but adds enhanced socialization features, along with persistent character progression – a first for the MOBA genre. Instead of an account- based leveling system, players can advance their Immortals through a diverse, persistent skill tree, customizing and upgrading the characters to unlock unique abilities that persist from match to match.
In addition, Rise of Immortals features a social hub where players can show off their enhanced Immortals, chat, emote, browse leaderboards, shop, manage friend and guild lists and more. Players also have the option of taking their Immortals through cooperative Player versus Environment (PvE) scenarios to learn the game, try out new abilities, and earn persistent experience before jumping into Player versus Player (PvP) matches online.
Players can purchase items via the in-game store to further enhance their Immortals, including new Immortal skins and consumable items like in-game boosters and elixirs. Petroglyph plans to release new content on a regular basis, including additional Immortals, arenas, skins, sound packs, pets and more.
The game was renamed to 'Battle for Graxia' on November 28, 2012.
The game was shut down on June 27 2013 and is no longer available to play.
---
This video game contains examples of:
---
For ale! Fat little women! And glory!