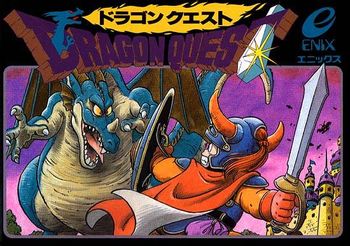 The first in the groundbreaking
Dragon Quest
series,
Dragon Quest I
(titled
Dragon Warrior
in North America when it was first brought over) is the story of the descendant of the legendary hero Erdrick, who has been summoned by the king of Alefgard to rescue his daughter and defeat the Dragonlord, who is threatening the kingdom and has stolen the legendary
Ball of Light
.
Yeah, that's pretty much it. It barely rises above the level of Excuse Plot, but considering it was essentially the first to even try to on a console, as it was first released in 1986, it was incredibly groundbreaking at the time, being essentially the first console JRPG.
In North America, it didn't make very much of a splash, in part because it arrived much later than it did in Japan - North America didn't see it until 1989, at which point the Anglophone RPG scene had already moved past the game that had inspired DQ1's creation in turn.note This would become an unfortunate theme for the franchise outside of Japan. Despite this, Nintendo did try very hard to push the game, giving out copies to subscribers of Nintendo Power and giving the game a ton of attention in said magazine, as well as it featuring in several episodes of Captain N: The Game Master. It proved decently popular, but the "hardcore" RPG players of America derided it for its simplicity compared to the Ultima and Gold Box releases of the time.
In Japan, however, Dragon Quest simply began everything. It was there at the right time and place - Japan of 1986 - to get millions of people playing it, being a simple enough game for a child to play but long and difficult enough for even an adult to appreciate. While it isn't quite the true Ur-Example and Trope Codifier for the Japanese RPG - that would be its second successor - said successor would never have happened without this game, and it still had, and continues to have, a massive influence on the Japanese video game zeitgeist.
The game's release history is absolutely enormous - in Japan. In the '80s and '90s it was ported to virtually every platform imaginable - the MSX, the PC-98, the Sharp X68000, the Super Famicom, and Satellaview... the SFC port is notable, however, for introducing some significant graphical and performance updates to the game. North America never saw any of this; when a Game Boy Color port was produced in 1999, North America received it a year later... and then that was it, despite a feature-phone version coming out in 2004 and the entire Loto trilogy getting a multi-version port archive release on the Wii in 2011. In 2013, a SFC-based smartphone version was produced (its visuals, however, were further updated and resemble those of the SNES remake of Dragon Quest III), and this was released to the wider English-speaking world with an updated translation.
---
A List of Tropes draws near! Command?
---