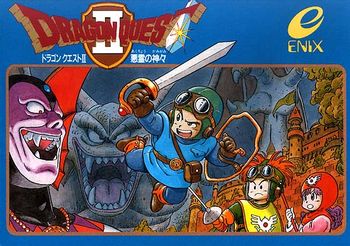 Dragon Quest II (originally titled Dragon Warrior II in North America, and receiving the subtitle Luminaries of the Legendary Line in some later versions) is the second installment of the Dragon Quest series and acts as a Distant Sequel to the original. After the events of that game, the descendant of Erdrick married Princess Gwaelin and sailed away from Alefgard. They founded the kingdom of Torland where the couple and their children happily lived out their days. Generations later, chaos broke out with rumors of a powerful evil being emerging from the southern impassible cliffs of the frozen plateau, Rendarak. His name was Hargon, an Evil Sorcerer bent on world destruction. He chose Moonbrooke Castle to launch his reign of terror.
Hargon's army swept in and decimated the castle, its inhabitants, and the King within minutes. A lone, injured guard escaped and walked to the nearby fortress of Midenhall Castle. No sooner had he told the king of Moonbrooke's defeat that he perished. Now, as a descendant of Erdrick, the Prince of Midenhall must venture out to meet his two cousins and stop the evil hand of Hargon. With a larger world and many new monsters (who now travel in groups), the heroes have a much harder and more dangerous adventure than their ancestor.
From a historical perspective, DQ2 is an odd duck - while its influence on its own successor is all-encompassing (every major gameplay system, or near-as-dammit, in DQ3 was designed with consideration from the feedback Chunsoft got concerning DQ2 and its trouble areas), and while it was in many ways comprehensively superior to its predecessor, because said successor so thoroughly outclassed it in turn and went on to become the real cornerstone of the franchise and the wider concept of the JRPG, and because DQ2 itself still had a lot of rough edges due to its incredibly short development time (barely six goddamn months) and still being somewhat "in the reeds" design-wise as a result of being such an early RPG, it has become the uncomfortable middle child of the Erdrick Trilogy. It is still important, but it is often forgotten in favor of the other two and not played or discussed as often. If it has any enduring claim to Trope Codification, it is in setting the model for party progression - if a JRPG isn't using the DQ3 "make and/or swap out the whole party yourself" system, it will instead follow DQ2's model of "travel to certain new locations early in the game, some plot happens, gain one new party member each time", and late-game party customization often hybridizes the two.
This is reflected in its porting and release history - it did get an MSX port (complete with that salacious picture of Princess Moonbrooke), but that was more or less it until it got ported to the Super Famicom in a package deal with DQ1, and even then, the porting felt rather perfunctory compared to DQ1's improvements (and nothing like the SFC port of DQ3). It also got Game Boy Color and feature phone versions like its trilogy-mates, but again it was not particularly high-effort for a port. It got a smartphone version in 2014, based on the SFC version but with DQ3-size sprites... on the unaltered SFC maps, which makes things look oddly scaled. The game was re-released as part of the Dragon Quest 1+2+3 Collection for the Nintendo Switch on September 27, 2019. Of these, English speakers got the GBC, smartphone, and Switch versions, the latter two of which remain widely available.
---
Examples:
---