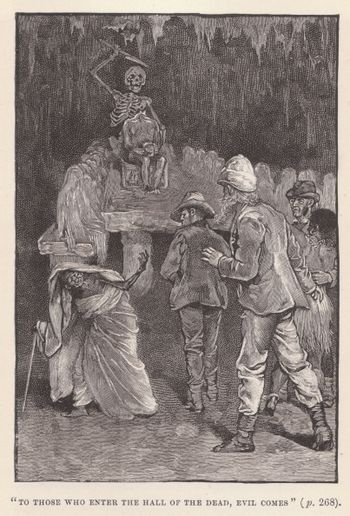 King Solomon's Mines is an adventure novel by H. Rider Haggard, first published in 1885.
Allan Quatermain is a hunter and wilderness guide in Africa. He is contracted by Sir Henry Curtis to find Curtis's brother George, who disappeared somewhere in Darkest Africa in search of the legendary diamond mines of The Bible's King Solomon. Quatermain has no interest in diamond mines and isn't particularly interested in a wild goose chase either, but Sir Henry's promise of a very hefty reward that Quatermain can send to his son back in England gets Quatermain to agree. Also agreeing to go on the journey is Captain John Good, a former naval officer, and a native named Umbopa, who has a strangely proud, regal bearing, and an agenda of his own.
It was enormously successful, launching the Jungle Opera genre, and was followed by over a dozen sequels and prequels featuring the protagonist Allan Quatermain, including a crossover with Haggard's other most famous novel, She. It has been adapted for film and television many times, including a 1937 film that starred Cedric Hardwicke as Quatermain and Paul Robeson as Umbopa, a British film from 1950 that starred Stewart Granger as Quatermain and Deborah Kerr as Elizabeth Curtis, a 1985 film starring Richard Chamberlain and Sharon Stone (with a simultaneously-filmed sequel, Allan Quatermain and the Lost City of Gold), and a TV movie in 2004 starring Patrick Swayze and Alison Doody.
---
King Solomon's Mines provides examples of:
Haggard's sequels and prequels provide examples of:
Tropes from the 1937 film:
Tropes from the 1950 film:
The 1985 adaptation provides:
---