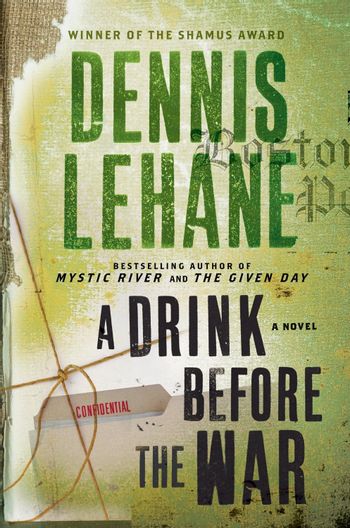 A series of Hardboiled Detective novels that started the career of Dennis Lehane, now famous as the author behind Shutter Island and Mystic River, both of which were adapted into successful films. Gone Baby Gone, the fourth book in the series, was also adapted into a film, with Casey Affleck and Michelle Monaghan playing the title characters.
The premise of the books is fairly simple: Patrick Kenzie is a wise-ass private detective working out of the tough, working-class Boston neighborhood of Dorchester. Always by his side is his faithful partner, the beautiful Angie Gennaro. Though they start out as Platonic Life-Partners, Patrick (in his narration) makes no secret of the fact that he's been in love with Angie since they were both teenagers. With their small, struggling detective agency, Patrick and Angie take it upon themselves to help every poor, downtrodden Bostonian who comes their way. Along the way, they end up tangling with everybody from drug lords, to serial killers, to Corrupt Corporate Executives to crazed stalkers, standing up for what's right and occasionally leaving corpses in their wake. Despite the loads of horror that they have to deal with, Patrick and Angie manage to keep their sanity through the Power of Friendship, both with each other and with the other residents of their close-nit neighborhood. Naturally, they end up falling in love with each other along the way.
The books are also rather notable for their strong adherence to specific themes in every installment, touching on many different shades of vice and evil as they examine the many diverse faces of criminality and injustice. The first book, for example, deals heavily with institutionalized racism and urban poverty in its portrayal of inner-city violence and political corruption, while the second deals with primal evil and insanity in its portrayal of serial killers, the third deals with greed and avarice in its portrayal of crooked businessmen, and the fourth deals with apathy in its portrayal of parental neglect—showing that apathy can often be just as harmful as outright violence.
With a heavy dose of realism and occasional social commentary, the series manages to subvert many cliches of detective fiction, and it's considered a prime example of "Neo Noir". In particular, it strongly averts Status Quo Is God, with many deliberate arcs over the course of six books.
The books published so far:
A Drink Before the War - Patrick and Angie take an assignment from a powerful politician to find some "important documents" that were stolen by his cleaning lady. In their search, they end up stumbling into the middle of a vicious gang war that threatens to tear their neighborhood apart.
Darkness, Take My Hand - Patrick and Angie spring into action when a long-dormant serial killer apparently resumes his killing spree. A pretty impressive feat, considering he's been behind bars for over fifteen years...
Sacred - Patrick and Angie agree to help a wealthy recluse find his missing daughter. Patrick also looks into the disappearance of his old friend/mentor, who vanished while investigating the same case. Features a brief departure from the series's typical Boston setting, with the action temporarily relocating to Tampa, Florida.
Gone Baby Gone - Patrick and Angie get pulled into the fray when a little girl's mysterious disappearance causes a huge stir in the neighborhood. Along the way, Patrick is forced to make the hardest choice of his career.
Prayers for Rain - After splitting up in the fourth book, Patrick and Angie reunite to take down a psychopathic stalker.
Moonlight Mile - Picking up eleven years after the last book, Patrick and Angie are a married couple with a daughter. They get pulled into one more crazy case when a teenage Amanda McCready (the vanished girl from the fourth book) vanishes again.
---
Tropes present in the series:
---