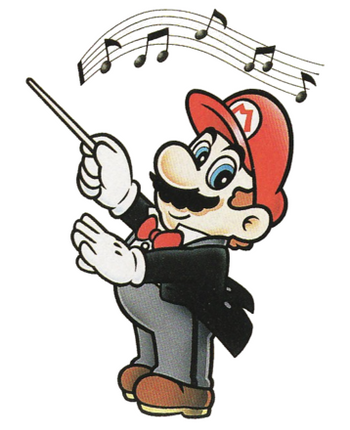 Besides that classic tune that you're probably hearing in your head right now, the most well-known game franchise in the world has some pretty damn good tunes under its belt.
Main series games with their own pages:
Spinoff series with their own page:
Sports games with their own pages:
For spinoffs not starring Mario, see:
open/close all folders
Super Mario Bros. Ground Theme (World 1-1)
The original Super Mario Bros. theme. It may have been a simple MIDI tune, but it will be remembered till the end of time. Nearly every Mario game has had a remix of it somewhere. For example, the remake of the original in Super Mario All-Stars.
Here's the one from Super Mario Galaxy. And Super Mario Galaxy 2, which adds more instruments.
A medley of the songs from Super Mario Bros appears in the arcade version of pop'n music 14 FEVER!, a completely different game by a completely different company. For obvious reasons, it was excluded from the PlayStation 2 version of the game.
The special zone version from Super Mario World.
Ever wonder what Mario music would sound like if Motoi Sakuraba composed it? Well...
The Mario Superstar Baseball commercial has a beautiful rendition played on a stadium organ.
The a cappella scat version from Super Mario Sunshine. Great enough in its synthesized version from the game, but the concert recording makes it even more awesome. It returned slightly arranged as a mini-game music in New Super Mario Bros..
Yoko Shimomura's arrangement of it from Super Mario RPG, which was recycled for Mario & Luigi.
Speaking of Mario & Luigi, which also features music composed by Shimomura, every game in the series uses an arrangement of the World 1-1 theme as a tutorial theme:
S.S.H. rock remix of it. Amazing. Those who liked this will also like Mario Minor by Powerglove.
How about Shell Rider, another awesome rock remix of this classic tune? Created by CarboHydroM, and all his works are free to download!
There's a Billboard chart for Ringtones. This song spent over 200 weeks in it. It sold over seven hundred thousand units in 2006.
Super Mario 64's title. Our very first "It's-a me! Mario!" Hit those cymbals!
The version orchestrated by those possessed instruments in Luigi's Mansion!
And yet another remix appearance in Mario and Sonic at the Olympic Winter Games!
Mario Party 9 has the aptly-titled Super-Duper Mario Bros. Also in Mario Party 9, we have Museum, a soothing calm piano mix; and Freshen Up!, which is an excellent remix of the tune in the vein of Mario Kart.
The Just Dance 3 version, which mixes the original theme with the All-Stars version with original rhythms.
The Tekken Tag Tournament 2 version. Yes, you read that right, a Tekken version. First seen in the trailer of the Wii U version; here's the full version found in the game.
Dance Dance Revolution: Mario Mix gives us a techno-reggae style remix titled, "Here We Go!"
Paper Mario: Sticker Star gives us Gooper Blooper's boss theme while poisoned. Gooper Blooper actually claps along to the song.
From NES Remix 2, the winter version.
Super Mario Odyssey features a live band rendition in New Donk City. Made even better in-game with the amassed crowd clapping along to the rhythm.
Platformers
Super Mario Bros.
The underwater theme really gives off the vibe of swimming deep in the ocean. It gives off a light, floaty feeling, but it's fast-paced enough not to feel boring. There's a reason why many future games would use this as a title screen theme.
The beautiful and evocative ending music (starts around 0:57).
The athletic theme is as peppy and energetic as you would expect for an athletic level.
From Advance 4 is the majestic World-e Castle theme.
The remix of the first game's underworld music was so catchy, Nintendo used it for the underworld levels in the All-Stars version of the first game.
The fortress/castle theme is rather short, only clocking in at around 18 seconds, but it provides a rather sinister feeling to it that fits just how cryptic these fortresses are and what awaits inside of them (especially in the original NES version, where most of them just have a pitch-black background, occasionally having a few windows here and there).
Super Mario Land 2: 6 Golden Coins
Corona Mountain, a fast and ominous drum-heavy track that really captures the heat and tension of piloting a boat through an active volcano.
New Super Mario Bros. (2006)
This game's soundtrack stands out because almost none of it was used in later New Super Mario Bros. installments; the vast majority of tracks from this game were dropped entirely, and the few that did get reused were all rearranged and remixed starting with NSMBWii. A real shame, because there are several great tracks in this mix:
The title music introduces players to the first 2D Mario game on a home console since Super Mario World in style.
The remix of SMB3's airship theme. It sounds like Mario joined the military.
The beach music. That song is catchy!
The desert music is also incredibly catchy; one of the best desert themes in the series.
The credits theme is catchy, even if it is very similar to the NSMBW credits theme.
This track fits perfectly with the completion of a Coin Rush pack.
The DLC shop theme sounds pretty soothing, doesn't it?
To give you an overall idea, most of the tracks in the game were recorded live, with real instruments, much as Super Mario Galaxy's soundtrack was orchestrated. This should already clue you in on how great they are.
Switch Scramble Circus is a brilliant track that builds up as you progress through the stage and ends once you hit the flagpole. It's also perfect for a circus-themed level.
The SUPER MARIO 3D WORLD Theme (a.k.a. "Super Bell Hill") is pretty catchy.
The Credits Roll theme, a jazz rendition of the main theme which is nothing short of pure, unfiltered awesome.
Both Chain-Link Charge and Double Cherry Pass sound great.
Sprawling Savanna is really catchy, especially with the pan flute.
Shifty Boo Mansion is an eerily beautiful track made even better by the violin.
The theme for Sunshine Seaside, a track heavily reminiscent of "Make Eggs, Throw Eggs" from Yoshi's Island. It sounds perfectly tropical, to the point you'd almost imagine yourself chilling on a beach.
Hands-on Hall, which plays on the Wutai levels, and mixes traditional Japanese and Chinese styles of music.
Beep Block Skyway, which plays in that level, is incredibly catchy.
Mount Must Dash, a remix of the Mario Circuit theme from Super Mario Kart.
Fort Fire Bros., which plays during that level and some of the other lava and castle levels (4-Castle, 5-3, 5-Castle, 7-4, and 7-7, among others). You wouldn't usually associate a pan flute and strings with lava levels, but this theme pulls it off splendidly. It also sounds a bit like Crash Bandicoot.
There is also Piranha Creeper Creek, which has a great beat and atmospheric feel...and also sounds a bit like Crash Bandicoot.
The first battles with Bowser are accompanied by Bowser's Highway Showdown, made from pure rock music goodness.
This track which plays on the tank levels is an epic, military-sounding song, and a worthy successor to Super Mario Bros. 3's Airship theme.
The World Map theme for World Bowser is an amazingly catchy jazzy beat that matches the Egopolis Big Amusement Park of Doom theme for the world. Here's an 8-bit version.
Hisstrocrat's theme, featuring a fantastic Benny Goodman-esque breakdown on sax, bass, piano and drums.
Footlight Lane, a beautiful, relaxing lullaby heard in starry places reminiscent of Super Mario Galaxy.
The Bullet Bill Express' Theme is loaded with a menacing yet urging theme for the stage leading to its boss with the snare simulating the train's chugging, adding to the tension as the players near the boss arena.
Motley Bossblob's theme sounds like your typical bouncy and catchy Mario-series boss battle theme at first... but then it breaks out the electric guitar. Then it becomes pure awesome.
Champion Road. Thought the Gusty Garden theme couldn't get any better? Oh, you'd be wrong.
Bowser's Fury starts off foreboding and ominous... then it breaks into Heavy Metal, complete with honest-to-god death metal chanting. Did we mention it's almost 20 minutes long?
"Chase Giga Bowser!" is a frantic and chaotic piece carrying a rocking reprise of Bowser's 3D World theme backed by heavy metal chants, a metal band and foreboding choir. This is a track basically hurrying you to defeat the Kaiju-sized Bowser fast.
The edit theme for the castle levels in the Super Mario Bros. 3 style rearranges the song into something that's very menacing and sinister, and will likely help fuel your ideas for what could be inside them, especially if they're Nintendo Hard.
The ghost house theme in the Super Mario Bros. 3 style compliments the castle theme well as, like it, it's a very short and simplistic, yet chilling, atmospheric and depressing song that nails down the creepy factor to a tee. Its edit theme is arguably just as good, if not more spooky to listen to.
Other Games
Cartoons
You may have heard the story a million times, but The Super Mario Bros. Super Show! managed to use covers of copyrighted songs for many of their action-packed moments, and rarely even the quieter moments. But due to music licensing rights, they were replaced with instrumental versions of the future cartoons' original songs, leaving the true magic to disappear from existence... for a while.
Whatever you may think of the singing voices, The Adventures of Super Mario Bros. 3 began an era of more original songs for their action scenes, and it shows:
Super Mario World is generally considered the weakest of the three Mario cartoons, with a lot of their songs being either lower in quality or too similar to the cover songs from Super Show. All that considered, there's still some good stuff to be found in this Short-Runner.
Miscellaneous