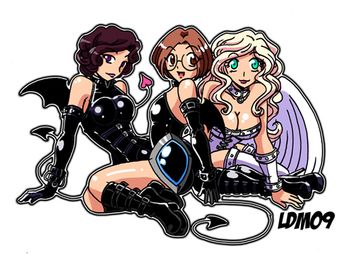 Demon Candy: Parallel is a bondage-fetish fantasy webcomic by Lord Dragon Master
about an 18-year old man named Jonathan who accidentally sells his soul for a Klondike Bar and attempts to win it back by living with Victoria, the Succubus Queen, for one year, while resisting her attempts to enslave him.
The story starts with Jonathan, an ordinary 18-year old human, being hassled by a woman named Noelle. Noelle is is doing a survey on what people would be willing to sell their souls for, and is harassing him about it. In an attempt to get rid of her, he says jokingly that he would sell his soul for a Klondike bar, a reference to the popular ad jingle for said bars. Noelle then gives him the bar and leaves. That night, Noelle breaks into Jonathan's room to claim his soul.
Realizing that she's not kidding, Jonathan protests, claiming he did not intend to actually enter into a contract, so Noelle takes him to Hell to see her manager: Victoria the Succubus Queen. Victoria decides to make a deal with Jon: if he can stay in her house for one year without submitting to her, she will return his soul. Jonathan agrees, but since humans usually die when they stay in Hell, he is turned into an incubus for the duration of his stay.
The main characters are:
Jonathan: Ordinary 18-year-old boy who accidentally sells his soul for a Klondike Bar, and is now the newest incubus in Victoria's manor.
Noelle: A human-turned-succubus. Has finished training to be a submissive, and is now training to be a switch.
Victoria: The Succubus Queen and one of the leaders of Hell... And owner of Noelle and Jonathan.

Also a human-turned-succubus.

Caley: A fallen angel who occasionally visits. Eventually becomes one of Victoria's subs, after her master gives her to Victoria's rival, only for Victoria to realize no one's laid claim to Caley's permanent allegience in the form of a demon mark.
The webcomic is available in print up to the fourteen chapters in three volumes at Lulu. Chapter 15 & 15.5 will be released in the upcoming Volume 4. There are expected to be at least 6 volumes (20 chapters), though But with the length of each chapter growing future chapters may become individual volumes themselves.
As of May 2019, LDM has admitted that much of his drive to continue the series has been stymied by his home life and other hobbies, but has said that this does not mean he will discontinue or prematurely end the series, only that updates from it may be few and far between.
---
This Web Comic includes examples of:
---