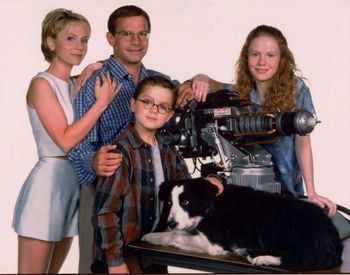 The 1997 TV adaptation of the 1989 Disney hit of the
same name.
It continued where the first movie left off and follows the misadventures of the Szalinski family, as Wayne's inventions would usually cause some sort of incident that had to be resolved by the family. Later episodes introduced more and more supernatural elements in an attempt to compete with shows like Charmed (1998), much to the annoyance of fans of pure science fiction.
Generally regarded as an Interquel set between the first two films, as Amy is still in high school and Nick is still prepubescent (and in the final episode to be produced, Diane announces that she is pregnant).
Lasted for three seasons with 65 episodes under its belt (as it was a Disney show, that was the allotted number of episodes a show could have back then, despite this show being mostly syndicated). Peter Scolari was also praised for his portrayal of Wayne, the character originally played by the beloved Rick Moranis, to the point that some fans felt he was better.
---
This show provides examples of:
---