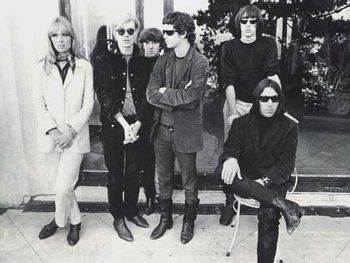 Then one fine mornin' she puts on a New York station
You know, she don't believe what she heard at all
She started shakin' to that fine fine music
You know her life was saved by rock 'n' roll
Groundbreaking independent rock band from The '60s famous for pioneering and influencing various subgenres such as noise rock, experimental rock, art rock, alternative rock, (hell, they were pretty much the first alt-rock band) and punk rock. Also infamous for their loudness, transgressive lyrics, and general too-cool-to-barely-give-a-shit attitude of their material. Overall, it's safe to say that a LOT of today's music would not have existed without them.
The Velvet Underground were formed in 1964 by dissatisfied Long Island songwriter Lou Reed and Welshman John Cale, who was studying classical music in the USA. Reed was the main guitarist and songwriter, while Cale played keyboards and viola. Sterling Morrison joined at the same time, assuming guitar and bass duties. After a period with Angus MacLise, the line-up was rounded out by drummer Maureen Tucker, who played with no cymbals and used a very simplistic, tribal style.
Andy Warhol was hired as manager and producer; at his insistence German singer/model Christa "Nico" Päffgen joined the band on several songs. Thanks to his patronage, the band received a contract with Verve Records and entered the studio in 1966 to record. Their debut album, The Velvet Underground & Nico, was released in March 1967; it contained several now-classic songs such as "Heroin", "All Tomorrow's Parties", "Venus in Furs", "Sunday Morning", "Femme Fatale", "I'll Be Your Mirror", and "I'm Waiting for the Man". It had a muted commercial reception and few people paid attention initially despite rigorous touring, but is now highly regarded among critics and fans.
The Velvets broke off the relationship with Warhol and Nico rather quickly. In this period their live shows started to contain more pronounced improvisation and harsh, loud material. Their second album White Light/White Heat in 1968 continued in this direction, as evidenced by the title track and the 17-minute "Sister Ray". By this time, the band members were tired of having no recognition, and tensions were growing between Reed's traditionalism and Cale's experimental, abrasive tendencies.
Cale eventually left, and was replaced by bassist Doug Yule. In reaction to this and the theft of the band's amplifiers, The Velvet Underground from 1969 (which was released by MGM Records, Verve's corporate parent) was a more subdued, reflective affair. Its style is most noticeable in the folky "Pale Blue Eyes" and "After Hours". Despite favourable critical reception, it was their first album to not enter the Billboard 200 (the previous ones managed the meager showings of #171 and #199). They toured throughout 1969 and continued writing material, most of which was shelved after disputes with Verve/MGM but eventually released on VU and Another View.
The Velvets left MGM in 1969 and signed with Cotillion Records, a sublabel of Atlantic, who requested less controversial material and an album "loaded with hits". The result was Loaded, their swan song. Despite strong material and, indeed, some hits, the band dissolved during production when Reed left the band in August 1970.
Yule attempted to continue the band, but it was over by 1973. The one resulting album, Squeeze (1973), is usually written out of the band's canon.
The band reunited once from 1992 to 1993. A live album was released featuring performances from the second reunion. Morrison's death of non-Hodgkin's lymphoma in 1995 pretty much iced the possibility of there being any further long-term reunions of the band (although the surviving members did play in 1996 for the band's induction of the Rock and Roll Hall of Fame, with a song dedicated to Morrison), and Reed's death of liver disease in 2013 certainly ended the possibility for good. Nico, for her part, died in a cycling accident in 1988.
---
Principal Members (Founding members in bold):
John Cale - bass, backing and lead vocals, viola, piano, celesta, organ, keyboard, sound effects (1964–68, 1992–93, 1996)
Angus MacLise - drums, percussion, bongos, tabla (1964–65, 1966, died 1979)
Sterling Morrison - guitar, bass, backing and lead vocals, sound effects (1964–71, 1992–1993, died 1995)
Lou Reed - lead vocals, guitar, piano (1964–70, 1992–93, 1996, died 2013)
Maureen Tucker - drums, percussion, backing and lead vocals (1965–71, 1992–93, 1996)
Doug Yule - lead vocals, bass, organ, keyboard, guitar, drums, percussion (1968–73)
Walter Powers - bass, vocals (1970–71)
Willie Alexander - keyboard, vocals (1971)
---
Studio Discography:
---
Live Discography:
1972 - Live at Max's Kansas City
1974 - 1969: The Velvet Underground Live
1993 - Live MCMXCIII
2001 - Final V.U. 1971–1973
2001 - Bootleg Series Volume 1: The Quine Tapes
2015 - The Complete Matrix Tapes
---
Selected Compilations & Box Sets:
1985 - VU note
1986 - Another View note
1995 - Peel Slowly and See note
2012 - The Verve / MGM albums note
---
I'm waiting for my man, 26 tropes in my hand:
---