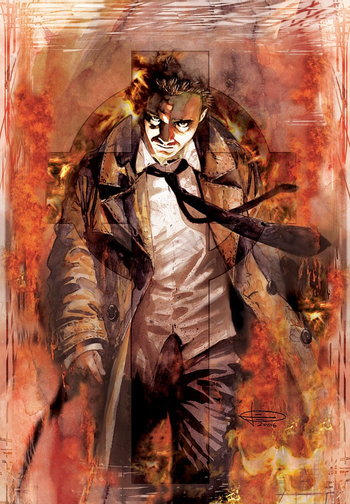 Mictlantecuhtli: You forget yourself. I am no upstart demon, scrabbling in the dirt of the human soul. I am Mictlantecuhtli. I am a god.
John: Great stuff. I'm John — and I'm a bastard.
John Constantine is a creation of Alan Moore and Steve Bissette, first appearing in Saga of the Swamp Thing #25 (June, 1984) and going on to head his own Vertigo series, Hellblazer, in 1988. The character started out firmly entrenched in The DCU — his first arc was a crossover with Crisis on Infinite Earths — but gradually drifted off into his own self-contained universe. (Although the likes of Zatanna, his ex girlfriend, and The Phantom Stranger still popped in from time to time, as did Morpheus.) He returned to the DCU in the Cosmic Retcon of Flashpoint, subsequently heading a number of series.
Constantine himself is generally portrayed as an adrenaline junkie who's constantly getting involved with the supernatural because he hates the snobs who rule the world. Although he is a Badass Long Coat Anti-Hero, he's portrayed as being a poor fighter (unless he's fighting dirty or gets the first punch in), generally eschews guns, and is actually not that powerful a sorcerer. Instead, he uses his brains to outwit, trick and manipulate his enemies. Well, brains, magic (mind-reading and gambling a specialty!), bullshit, and not infrequently the power of his own reputation. His reputation as a manipulative bastard has led to him being referred to as the World's Greatest Con Man.
One of his most persistent traits is his habit of manipulating friends and allies into fighting for him, frequently getting others involved in his schemes. This often winds up getting others hurt or killed. Indeed, the series became notorious at one point for introducing a new "old friend" of Constantine's, then killing them off every few issues. Despite this, Constantine is generally a sympathetic character who refuses to absolve himself of his guilt — except for the time that he turned it into a demon baby and threw it off a cliff — and generally does the right thing, even if he does it in a particularly nasty way. He is a strident humanist and sort-of anarchist who fights for humanity's right to make its own decisions free of the control of Heaven, Hell, politicians, or other forces of control. The fact that he does this by manipulating people is an irony that has not been lost on several writers, or even on Constantine himself during moments of self loathing. It is a major theme in the comic that Constantine never has any unequivocal permanent victories — enemies will always return, revenge will be sought and friends will be lost. Ultimately, Failure Is the Only Option.
In 2011, Constantine was re-integrated into the mainstream DC Universe, and served as a founding member of Justice League Dark. This younger and hipper Constantine became the de facto mystic guest star whenever a comic needed a one, supplanting Doctor Fate and Zatanna from the role. He had a larger hand in big events as well and was more prone to backstabbing others, and had very little of his prior history. Eventually, the history of Hellblazer gradually returned.
A cute version of John appears with other Vert-goMites in the Bat-Mite story Mitefall.
John Constantine was portrayed by Keanu Reeves in the 2005 film adaption and Matt Ryan in Constantine and later the Arrowverse. Ryan also voiced him in the DC Universe Animated Original Movies. Taron Egerton voiced Constantine for the Audible dramatization of The Sandman (1989). To the surprise of many, Constantine also made appearances in Justice League Action.
Notable Vertigo Appearances
Hellblazer #1-300 (January 1988-November 2012)
Saga of the Swamp Thing #37-40, 44-45 (June 1985)
Crisis on Infinite Earths #4 (July 1985)
Swamp Thing Vol. 2 #46-51, 55, 65-67, 70-74, 76-77, 84, 88-90, 99, 114-115, 166, 169-171 (March 1986)
The Sandman (1989) Vol. 2 #3 (March 1989)
Books of Magic Vol. 1 #1-2, 4 (January 1991)
The Horrorist #1-2 (December 1995)
Hellblazer/Books of Magic #1-2 (December 1997)
Sandman Presents: Love Street (July 1999)
Hellblazer Special #1 (1998)
Vertigo: Winter's Edge #1-3 (January 1998)
The Trenchcoat Brigade #1-4 (March 1999)
Vertigo Secret Files: Hellblazer #1 (August 2000)
Hellblazer: Bad Blood #1-4 (September 2000)
Hellblazer: All His Engines (January 2005)
Papa Midnite #3-5 (June 2005)
Chas: The Knowledge #1-5 (September 2008)
Hellblazer: Dark Entries (October 2009)
Hellblazer: Pandemonium (March 2010)
Hellblazer: City of Demons #1-5 (December 2010)
Notable DCU Appearances
Justice League Dark #1-#40, #0 (November 2011)
Constantine #1-23 (May 2013)
Constantine: Futures End #1 (November 2014)
Secret Origins Vol. 3 #11 (May 2015)
Constantine: The Hellblazer #1-13 (August 2015)
The Hellblazer: Rebirth #1 (September 2016)
The Hellblazer #1-ongoing (October 2016)
open/close all folders
Vertigo Comics (1988-2013)
New 52 (2011-present)
In the
New 52
reboot, an alternate, younger John works as a member of the
Justice League Dark
, a team that focuses on the magical and supernatural aspect of the DCU. He also received a DC solo title called simply
Constantine
in 2013, which often ties into
Justice League Dark
.
---
TV series (2014-2021)
---
There's been a lot said about John Constantine, all right, and everyone who's known him has their own pet theory.
Really, though, he's just a man.
Perhaps one day, if we let him, he can be a hero.