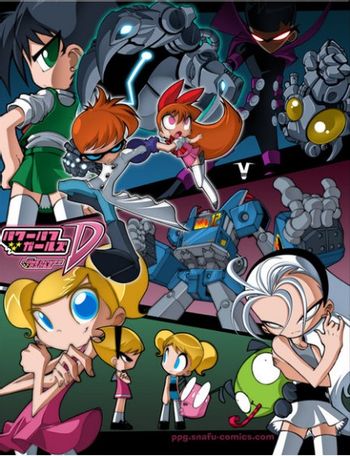 The battle between heroes and villains rages on. Using their ultra super powers, Blossom, Bubbles, and Buttercup have continued to dedicate their lives to fighting crime, and the forces of evil!
In 2002, a fanartist named Vinson Ngo, a.k.a Bleedman, somehow got it into his head to draw a manga-styled Mega Crossover with every popular cartoon he could think of, recent and past, and blend them all together for a Fan Webcomic centered on the three superhero tykes known as The Powerpuff Girls.
The result was Powerpuff Girls Doujinshi
(a.k.a. Powerpuff Girls D or PPGD) which combines the universes of Cartoon Network and Nickelodeon as well as a few other outside sources and original material, and places them in a town called Megaville, a neighboring city of Townsville in this universe, where malevolent forces are poised to attack.
Be warned, though — blood, death, and sexual themes are heavily featured, placing the characters in situations in which one wouldn't normally see them. The story itself is something of a Round Robin, heavily based on fan-input.
Started in January 2004, the webcomic gained a massive following on DeviantArt
(see Ngo's profile page
) and won 2005's Web Cartoonist's Choice Awards for Outstanding Character Art and Outstanding Superhero Comic. Around 2007, Ngo moved the comic from DA to Snafu-Comics.
Updates have been sporadic but recently pretty steady due to Ngo also working on the crossover fancomic Grim Tales from Down Below and his original series Sugar Bits. He also said to have took on another Snafu member's project, Invader Zim: Manifest Doom, though he has yet to work on it. He's a busy man.
---
This webcomic provides examples of:
Ship Tease: Aside from all the more obvious Toy Ships, a single panel hints that the resurrected Boomer may have a crush on Bubbles based on his memory of the kiss that blew his first incarnation up.
Shout-Out:

Specifically, Blossom's Kamehameha, Bubbles' Sonic Boom, and Buttercup's Power Wave. Dexter countered those moves with Geese's Raging Storm!
this. The date on the comic is 2004, which was the same year that William Hung became famous for butchering that song on American Idol.
This DBZ gag.
There's a one-frame Sailor Moon cosplay for Bubbles.
"Why can't you take it all off and make me Fullmetal?"
Smile you son of a...
Here we've got Dexter and Mandark using the Chodenji Yoyo and Chodenji Top. And if that weren't enough, Here's Coop using the Tenkuu Ken.
B7? Why, oh why does that look so familiar?
The Big Bad is a fan of Haruhi. Or he could have hacked Bleedman's computer.
Jenny arrives on the scene in a costume similar to Black★Rock Shooter.
"If Victor Frankenstein can do it, so can I!"
A solid Vibranium Shield.
Look closely in the first panel...Panty and Stocking go to their school.
"Well, that's just Prime!"
There is an action figure of the Golden Age Hulk in Dexter's Lab.
And here's another Hulk reference.
Here we have a lightsaber duel like in Phantom Menace.
Jackbots are the robots that Mandark uses to attack Dexter's original laboratory.
Dexter mentions Jimmy Neutron (presumably) when he is "lost" in his subconscious.
Round 2! Ready? Fight!
One of the Mooks in this strip says "Spawn more Overlords!"
This page shows Blossom analyzing a fight with Bell just like a certain British detective.
This and this, and this. I don't think I need to explain these references.

Almost all of GIR's lines are shout-outs to something or other.

On this page, Gir redirects Bell's blast with a disco ball. He calls the pattern "Disco Inferno".
The clothes the girls wear at the school here are the same casual outfits of the protagonists in another anime-inspired Powerpuff Girls series.

Stealth Pun: Mandy's shirt At first you think it's because she is dark. Then you remember that she pretty much owns the Grim Reaper.
Those Two Girls: Susie and Tootie.
Take That!: At the former writer/editor, no less. This page calls out the idea of Bell, a central character, being a super-advanced robot, an idea originally tested by Bleedman in concept art and explored in the work of former PPGD editor and current After Birth writer Griddles. The comments seem to reflect the opinion of the other writers, who've had a noted difference of opinion with Griddles in the past and present.
Take That, Us: While going through Samantha's memories, Grim and Dee Dee find what appears to be an incident with Rick and Morty. Rick takes time to call the world they've ended up in a "crappy parody of 90s cartoons."
Telepath: Ms. Honeydew is revealed to be one. Any fan of Dexter's Lab should know what this means is about to happen.
Translation: "Yes": Monkey talks like this, for obvious reasons. Courage as well, to a much lesser extent.
Understatement: Grim's summation of

the events of the Mandark arc just before Mandark's death

.

Grim: Kids these days. They do the craziest things.

Visual Pun / Stealth Pun: Dexter and Mandark duke it out using everything but the kitchen sink.
Your Mom: When the group is at the beach, this bit of dialogue comes up:

Mandy: Okay. If I'm bothering to be out here: the free food. Where is it?
Olga: Where's your boyfriend Billy?
Mandy: Dating your mom.

Wham Episode: Chapter 9.

The Darkstar Council invades the science expo and succeed in setting off a Temporal Bomb.

What Is This Thing You Call "Love"?: Honeydew and Jack find themselves having to explain this to Boomer after he starts kissing every female.
Wimp Fight: As a shout out to the show, the final showdown between Dexter and Mandark begins with one of these. Then they whip out their Power Armor and begin beating the ever-living crap out of each other.
---