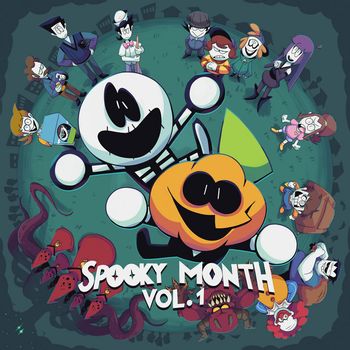 What an eerie, spooky night!
To be scared! To get fright!
Creepy crawlies come from down!
Be afraid and move around!
— Skid and Pump, "Tender Treats"
Spooky Month is an annual Halloween Horror Comedy cartoon series made by Sr. Pelo for Newgrounds
and YouTube
.
The series follows the misadventures of Skid and Pump, two hyperactive and Halloween-obsessed children who regularly venture out into the night to enjoy the titular Spooky Month — even if it isn't October. Things quickly take a strange series of turns from there as bullies, creeps, criminals, cultists, demons, eldritch entities whose eyes form the stars above, clowns and who knows what else have the (mis)fortune of bumping into these children.
---
It is the 𝒮𝓅𝑜𝑜𝓀𝓎 tropes! Ayyy!:
open/close all folders
#-H
I-Z
---
OOGA BOOGA! HAHAHA! OH, YOU SHOULD'VE SEEN THE LOOK ON YOUR FACE! HEH HEH HEH!
---