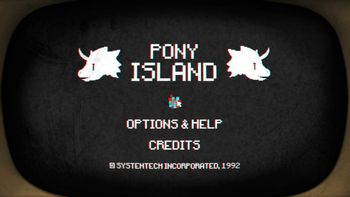 "You just had to fix it, didn't you?"
Pony Island is a Suspense Puzzle game by Daniel Mullins Games, released on January 4th, 2016.
You are in limbo, trapped in a malevolent and malfunctioning arcade machine devised by the devil himself. The devil detests having his puzzles solved and poor programming exposed; you will need to think outside the box to proceed and you will be insulted when you do.
Available on Humble Bundle
as a DRM free download and Steam game, as well as Steam itself.
.
It is recommended that you play the game first, as there are major spoilers below, you've been warned.
---
START TROPES:
---