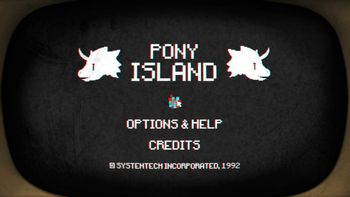 "You just had to fix it, didn't you?"
Pony Island is a Suspense Puzzle game by Daniel Mullins Games, released on January 4th, 2016.
You are in limbo, trapped in an arcade and forced to play a malevolent and malfunctioning arcade machine devised by the devil himself. The devil detests having his puzzles solved and poor programming exposed; you will need to think outside the box to proceed and you will be insulted when you do. In the process, you encounter a Hopeless Soul trapped in the game who will help you escape. If you poke around, you might even be able to discover some secrets.
Gameplay alternates between an automatic runner for the actual game, in which you control a pony and must make it to the end of each level, and a Point-and-Click adventure interface used for everything else, like the hacking minigames you will have to win to fix the many glitches found in the game.
Available on Humble Bundle
as a DRM free download and Steam game, as well as Steam itself
.
It is recommended that you play the game first, as there are major spoilers below, you've been warned.
---
START TROPES:
Anachronism Stew: Since the game is set in Limbo, time and space has no meaning. The Arcade machine has an old style curved CRT monitor, the graphics look like something from Atari or Coleco, the desktop looks like Windows 95, the copyright notice for pony island lists 1992 and the machine prints out arcade tickets. Then there is the fact that the player is a Crusader from the 1200s who's able to operate a computer.
Anti-Frustration Features:

If there is a Hacking portal around, the cursor will spit between red and blue and will point towards it.
A patch added an Act Select to the main menu to make accessing Ticket hotspots easier.
During the final level, you have unlimited Pony Laser power. You're probably going to need it.

Artistic License – Religion:

Asmodeus is the demon king of lust, but he doesn't seem all that interested in love or sex over

testing your wits in the most horrendous way possible

. Also, Beelzebub is another name for Satan, in this game they're different demons altogether.

Some demonology works have Beelzebub as a separate demon that represents the sin of gluttony.
Makes a bit more sense if you connect Lucifer's statement immediately before the Beelzebub encounter. You get to the mostly incomplete ending of Adventure Mode, and he says that he is the last boss. He's just correct From a Certain Point of View.

ASCII Art:

Baphomet

is rendered as a red ASCII demon head.
Beeping Computers: Or Beeping Arcade Machines Not only does your arcade machine make loud hard-drive clicks and whirrs when booting up and reading data, it actually has an option to play "Struggling Hardware" sounds.
Big Bad: Lucifer is the creator of the titular Pony Island who has trapped the player and several other souls inside his game.
Blatant Lies:

During your second go at Pony Island, Lucifer will surround the pony with Devil heads that kill it after a few seconds and are unavoidable. His response after you inevitably lose? "MY GAME IS CHALLENGING BUT FAIR."
When the 1st version of 2D Pony Island refuses to load a new game, forcing the player to fix it, Satan is dejected about this, arguing it was going to work because he "tested it 1,000 times." Evidently, he did not.

Blood from the Mouth:

You are forced to shoot

Louey when he appears on screen

. Your air breath suddenly turns into a laser, causing him to vomit and cry blood.
In one of the versions of Pony Island you get to play, the pony heads that surround the title will vomit blood when highlighted.

This is actually something you need to exploit in order to get one of the tickets.

Breath Weapon: One of the first things you get to do is to enable "Pony Lasers" that enable your pony to fire a Wave-Motion Gun from its mouth.
But Thou Must!:

Early on, Lucifer will force you to type "yes master" regardless of what keys you press, or if you complete the message.

Also, as he actually lampshades at one point, doing what Hopeless Soul asks is the only way to progress the plot, despite all the warnings that he's not trustworthy.

At a later point, you will need to use the Pony Wings before they are re-explained to you. You can play dumb and avoid using them, but you'll just keep hitting fences and respawning until you use them.

Catastrophic Countdown:

Initiated by the player, when they commence a full system dump. The lost souls, in the vessels of ponies, have to all race to escape the destruction of Lucifer's machine... they don't all make it.

Collapsing Lair: The system dump not only shows game assets degrading around you, but also throws corrupted code that can kill you. You have to use your pony lasers to clear a path for you and your fellow escapees.
Deal with the Devil: With Lucifer himself. You play the eponymous Game Within a Game multiple times, and are usually interrupted after a few levels with a screen saying "Experience the rest of Pony Island! Insert your soul to continue."
Death Is a Slap on the Wrist: As levels aren't terribly long, death isn't much of a punishment.

Dying in a boss fight causes the boss to heal a small amount of health, but otherwise no progress is lost.

Deceptively Silly Title: "Pony Island" sounds like it'd be a game targeted towards young children, but it definitely isn't.
---