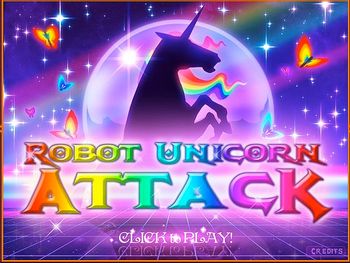 Robot Unicorn Attack is a free Adobe Flash game from [adult swim]. You're a rainbow-adorned robot unicorn who runs across a pink, sparkly, brightly colored world, collecting fairies, jumping onto platforms, and dashing about while a happy, upbeat Award-Bait Song plays in the background. There are only two buttons: Z to jump and X to dash. Did we mention that they had a developer devoted entirely to "sparkles and unicorn tears"?
Play it here
. There are iPhone and Android ports available for wish-chasing on the go. Three expansion packs are also now available, one of which, Robot Unicorn Attack: Heavy Metal Edition, is... not as harmonious as you know it to be.
In February 2012, a sequel was released: Robot Unicorn Attack Evolution. In this game (available on Facebook), the gameplay remains mostly the same; however, there are added additions of daily challenges, the ability to purchase powerups for the game using earned currency, and the like. The most notable addition is that for every three stars you smash in succession (And trust us, it ain't easy), you evolve into another creature and teleport to another world where there are more pixies to collect. Play the Adult Swim version here
and the Facebook version here
.
In December 2012, another version was released: Retro Unicorn Attack. Identical to the original
, but now in 8 bits! Was later followed up with Retro Unicorn Attack: Challenge Edition
, which introduces fairy and star-laden Bonus Stages to jack your score to previously unseen heights.
In April 2013, a true numbered sequel was released for iOS platforms. Robot Unicorn Attack 2 borrows many elements from Evolution, but also includes a rank system that allows you to unlock power ups, daily/community challenges, and unicorn parts as you complete certain objectives (such as reaching a certain score or dashing a certain number of stars in a single wish). Said unicorn parts allow you to modify your unicorn both visually and functionally, altering things such as your acceleration rate, speed, dash length, and even gives you the ability to fly. At a certain level it also has you join either Team Rainbow or Team Inferno; each day the teams compete to smash the most Stars, with the winning team being awarded a random amount of Tears, the in-game currency. Finally, it introduces a new stage hazard: Giants, which are basically huge Stars that fire Frickin' Laser Beams at you.
Robot Unicorn Attack 3 is now available for iOS in the App Store. The game features multiple robot unicorns that can be fused or cannibalized for parts, new monsters, and stars and fairies in regular or RADIANT! colors. Despite the changes, it maintains the flavor and addictiveness of the original game, while managing to make the inevitable crash less frustrating.
Has nothing to do with Gundam Unicorn.
---
Hold ooooonnnnn... to the niiiiight... there will beeeee noooo shaaaaammmmmeeeee...~
Tropes displayed by Evolution not present in the original:
Tropes displayed by RUA2 not present in the original:
---
HA
RM
ON
Y H
A
RM
ON
Y
OH LOVE~
❤️🧡💛💚💙💜
---