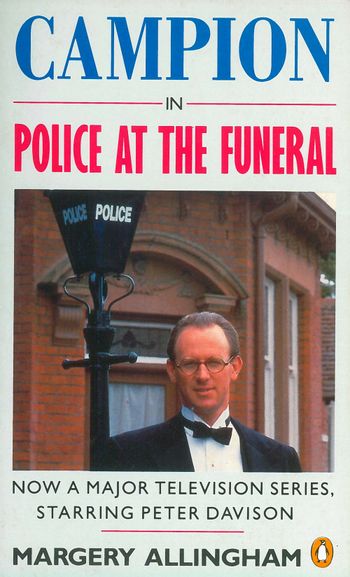 Mr. Albert Campion
Coups neatly executed.
Nothing sordid, vulgar, or plebeian.
Deserving cases preferred.
Police no object.
Albert Campion is the protagonist of a series of novels by Margery Allingham; outwardly an Upper-Class Twit but in reality a Gentleman Adventurer who is willing to sell his skills to anyone in trouble. Aside from his enquiring mind and deductive abilities, his main attributes are his incredible range and depth of contacts, ranging from low class criminals up to the Chief Constables of a number of police forces and his ability to insinuate himself anywhere and get along with pretty much anybody.He was assisted on most of his adventurers by Magersfontein Lugg — a burglar turned valet.
A television adaptation, Campion, debuted in 1989. It featured Peter Davison as Campion.
open/close all folders
Novels in this series
"The Crime at Black Dudley" (1929), also known as "The Black Dudley Murder".
"Mystery Mile" (1930).
"Look to the Lady" (1931), also known as "The Gyrth Chalice Mystery".
"Police at the Funeral" (1931).
"Sweet Danger" (1933), also known as "Kingdom of Death" and "The Fear Sign".
"Death of a Ghost" (1934).
"Flowers for the Judge" (1936), also known as "Legacy in Blood".
"The Case of the Late Pig" (1937).
"Dancers in Mourning" (1937), also known as "Who Killed Chloe?".
"The Fashion in Shrouds" (1938).
"Traitor's Purse" (1941), also known as "The Sabotage Murder Mystery".
"Coroner's Pidgin" (1945), also known as "Pearls Before Swine".
"More Work for the Undertaker" (1948).
"The Tiger in the Smoke" (1952).
"The Beckoning Lady" (1955), also known as "The Estate of the Beckoning Lady".
"Hide My Eyes" (1958), also known as "Tether's End" and "Ten Were Missing".
"The China Governess" (1962).
"The Mind Readers" (1965).
"Cargo of Eagles" (1968). Novel left incomplete due to the death of Allingham in 1966. Completed by her husband Philip Youngman Carter.
"Mr. Campion's Farthing" (1969) by Philip Youngman Carter.
"Mr. Campion's Falcon" (1970) by Philip Youngman Carter. Published posthumously as Carter died in 1969.
---
These books provide examples of:
---