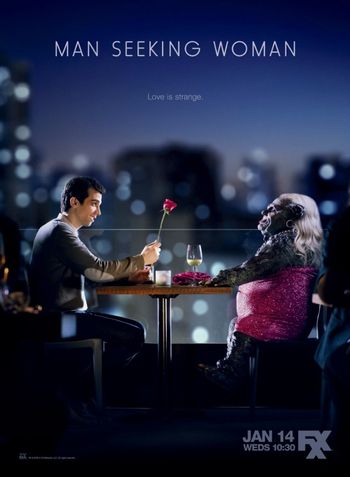 Man Seeking Woman is an FXX comedy shown since 2015. The show is based on the book "Last Girlfriend on Earth" by Simon Rich, who also created and ran this show. The show stars follows the dating life of 20-something Josh Greenberg (Jay Baruchel), focusing on his dates, flings, and girlfriends. His best friend (Eric André) encourages him to pursue sex as opposed to serious relationships, while his older sister (Britt Lower) pushes Josh towards relationships.
Despite a seemingly mundane premise, the presentation goes deep into surrealism. Historical, religious and mythical figures appear as themselves, the characters end up doing battle against otherworldly enemies and often operates on Looney Tunes physics, and no one ever acknowledges these things as being unusual or out-of-place. This is never fully explained either an actual function of their world or an Imagine Spot with the dial racked to the extreme, but it serves as a reflection of the absurdity of modern life. Police negotiators are called in when Josh is thinking of drunk texting a girl he likes.
Following the end of its third season, the show was not renewed by FXX.
---
Provides examples of: