For the main House Stark entry, see here
For the main Night's Watch entry, see here
Jon Snow, the 998th Lord Commander of the Night's Watch
Lord Snow, Ser Alliser's Bane, The Snow of Winterfell, The crow-come-over, The Bastard of Winterfell, Lord Crow, The Black Bastard of the Wall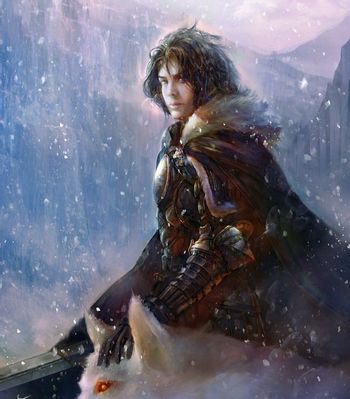 "A bastard can have honor, too."
Eddard (Ned) Stark's illegitimate son with an unknown mother. Jon is brought to Winterfell as an infant by his father Ned when Ned returns from Robert's Rebellion and Ned raises Jon alongside his lawful children. Jon is fourteen years old at the beginning of the series and is solemn and introspective with an inclination for brooding and a compassion for others — especially those who don't fit in. He shares his father's beliefs in honor, duty, and doing the right thing. Jon is close with his father, half-siblings, and uncle but has felt like an outsider among his family when he learned what it meant to be an illegitimate child and why he was thus Catelyn's Unfavorite. Jon develops observant traits as a result and his illegitimacy leaves him with the desire to prove himself. When his father leaves to King's Landing, he chooses a life of hard duty in the Night's Watch to earn his own honor.
His direwolf is Ghost, an albino who, like Jon, is simultaneously a part of his family and an outsider.
At age 16, he becomes the 998th Lord Commander at the end of A Storm of Swords.
---
open/close all folders
A-F
G-M
N-Z
---