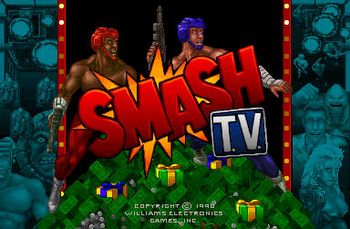 "Big money! Big prizes! I love it!"
In the far flung future of 1999, violence is the biggest draw in entertainment. The game show has become the dominant force in television. The most spectacular, gruesome, and rewarding show, topping the ratings, is Smash TV. Contestants are armed and sent into a closed arena, where they fight for cash, glory, and unforgettable prizes including (but not limited to) brand new toasters, more 2,600" televisions than you ever thought possible, and a year's supply of good meat. And if you do well enough, and find enough keys... you may just get into the Pleasure Dome.
You are the next lucky contestant!
Yep, that's the plot in a nutshell. The game is basically a graphical update of designers Eugene Jarvis' and Larry DeMar's earlier Robotron: 2084, while also borrowing heavily from The Running Man (it can be considered a Spiritual Successor to both).
From The Running Man, it borrows the Deadly Game and Blood Sport aspects, and the quite phenomenal volumes of carnage. From Robotron, it takes the Mooks, Shoot 'Em Up styling, two-joystick control scheme, and - most memorably - the Nintendo Hard-ness. Co-op play makes life a bit easier, but not much.
Originally developed by Williams Electronics and released to arcades in 1990, it turned up on several home computer systems and consoles before making the jump to Xbox Live Arcade - the first version that allowed co-op online play.
It also received a novelization from the Sega magazine Sega Force
Not to be confused with the Super Smash Bros. series, the Smash television show, Smash Williams, or the act of smashing your TV.
See also Nitro Ball, a game with a similar, equally ridiculous premise.
---
Total Tropage!:
---
---