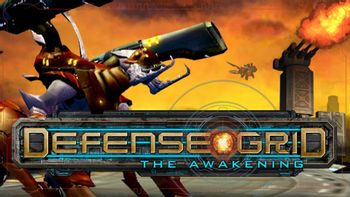 "
The invasion began without warning. After a thousand of years of peace, the aliens have returned. The planet's survival depends on activating the ancient Defense Grid... If it still functions at all.
"
Defense Grid: The Awakening is a Tower Defense game developed and published by Hidden Path Entertainment. It was released for the PC in December 2008 and Xbox Live Arcade in September 2009.
Over a thousand years ago, an Alien Invasion on your planet was beaten back. Now, the aliens are invading again, and your world is in peril. They've besieged your city, cutting you off from your home. In the nearby ruins of an old military base, you find a dusty terminal and reawaken an ancient Artificial Intelligence—who, in reality, is the very general of the previous war! After the war his brain was uploaded into the planetary defense grid, in case the aliens ever returned.
With the help of General Fletcher, you've jumped into the command chair to re-awaken the grid and Save the World.
Hidden Path gave the sequel, Defense Grid 2, the Kickstarter treatment
. Though they didn't get enough money to fund it, the project was funded
by Ascended Fanboy Steven Dengler, who also helped co-produce various Double Fine projects. It was finally released on September 2014, with 505 Games as the publisher.
---
Defense Grid provides examples of:
With This Herring:

Justified by the fact General Fletcher has to slowly reactivate the towers since they've been offline for who knows how long.
The sequel starts with Simon, Fletcher and Cai investigating a distress signal, but not quite expecting another alien invasion, thus the grid can only activate few types of towers.

You Require More Vespene Gas: Towers are built and upgraded with a single Gold-type resource from killing aliens which doubles as your score, along with the remaining cores and total sell value of your towers at the end of the level. The game encourages minimal use of resources through interest.
Zerg Rush:

Swarmers. Weak health, but damn, they come in large swarms!
The Grinder game mode is exclusively Walkers, just barely above the weakest creature in the game, but increasing in intensity for 99 waves. Playing it in the very last level can crash the game (it is the biggest level with a large number of options for path placement, meaning you could have 10 or so waves of 40+ walkers each on the screen at the same time, plus all the tower actions). Super Grinder is also 99 waves but with fewer enemies and more enemy variety, including some bosses, which is ironically easier to beat.
---