open/close all folders
S.H.I.E.L.D.
Nick Fury
Nick Fury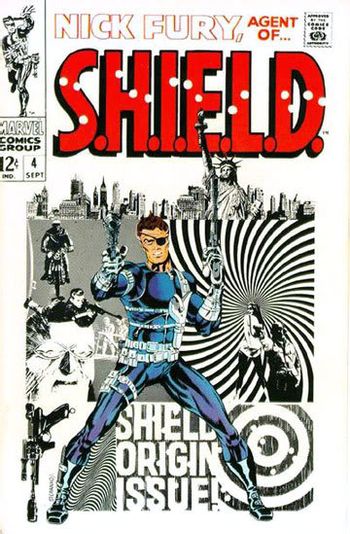 Alter Ego: Nicholas Joseph "Nick" Fury
Notable Aliases: Scorpio, Gemini, The Unseen
First Appearance: Sgt Fury and his Howling Commandos #1 (May, 1963) note ; Original Sin #8 (September, 2014) note
The Howling Commando. The S.H.I.E.L.D. Ramrod. A 90-year-old soldier/CIA agent/spymaster/fugitive. Considered to be one of the good guys by pretty much every hero on the planet, partly because the idea of not being on his side is kind of terrifying.
---
Maria Hill
Maria Hill
Alter Ego: Maria Hill
Notable Aliases: Director Hill, Agent/Special Agent Hill, Mary Huell, Commander Hill, Deputy Commander Hill, Sub-Director Hill, Deputy Director Maria Hill
First Appearance: The New Avengers #4 (March, 2005)
A high-ranking SHIELD agent with a temperamental relationship with Tony Stark and the rest of the superhero community, Maria Hill served as Stark's Number Two during his term as director of the intelligence agency SHIELD. She stayed with Stark during Norman Osborn's tenure, and has since returned to active duty.
---
Sharon Carter
Sharon Carter
Alter Ego: Sharon Carter
Notable Aliases: Agent 13, Fraulein Rogers, Gaea-1, Irma Kruhl, "The Most Dangerous Spy in the World," Ronnie, Shary, Iron Patriot
First Appearance: Tales of Suspense #75 (March, 1966)
The sister/niece of Steve's World War II love interest Peggy Carter, who works alongside Steve as an agent of SHIELD. The two have an on-again, off-again love affair, which is currently off due to her catching a bad case of dead... except, nope, it was a fake out, she was alive the whole time, she just aged ten years in another dimension and spent her time raising Steve's son. Consider it on again.
---
Heroes and Allies
Demolition Man
Demolition Man
Alter Ego: Dennis Dunphy
Notable Aliases: D-Man, Demolition Dunphy, Scourge of the Underworld
First Appearance: The Thing #28 (October, 1985) note ; Captain America #328 (April, 1987) note
A former unlimited-class pro wrestler who befriended The Thing, Demolition Man has had a dubious and difficult career as a costumed adventurer. Although he began as one of Captain America's closest allies during a difficult time for the patriotic hero, first teaming up with him to investigate the Power Broker, the man who gave him his augmented strength, much of his life following that has proven hard.
---
Diamondback
Diamondback
Alter Ego: Rachel Leighton
Notable Aliases: Ray, Snapdragon
First Appearance: Captain America #310 (October, 1985)
A former member of the Serpent Society, Diamondback is a villainess-turned-hero, a S.H.I.E.L.D. operative, and the former girlfriend of Captain America.
---
Free Spirit
Free Spirit
Alter Ego: Cathy Webster
Notable Aliases: Freebie, Spirit, Coachwhip
First Appearance: Captain America #431 (September, 1994)
A young college student brainwashed and altered into being a super-soldier by Superia.
---
Jack Flag
Jack Flag
Alter Ego: Jack Harrison
Notable Aliases: King Cobra, AZ-1260
First Appearance: Captain America #434 (December, 1994)
A young man from Arizona inspired by Captain America to become a vigilante himself, eventually managing to get superpowers and training from his idol. He was imprisoned in he Negative Zone following the Superhero Registration Act for violating it, becoming crippled in the process. While in prison he ended up leading the prisoners against Blastaar. After teaming up with Star-Lord, he wound up with a really weird bunch of cosmic heroes. And for the record, he hates "cosmic stuff".
---
Black Crow
Black Crow
Alter Ego: Jesse Black Crow
Notable Aliases: "Injun Joe" (by Nomad)
First Appearance: Captain America #292 (April, 1984)
Black Crow is a Native-American warrior who carries the mantle of the Earth Spirit. This allows him superhuman as well as mystical abilities.
---
Heel–Face Turn: The Earth spirit first sent Black Crow to challenge Captain America to a trial by combat because, as a symbol of modern America, his death would appease the spirit. After a dynamic battle, Captain America made a gesture of appeasement to the Earth spirit. This created a spiritual bond between the two American heroes.
Magical Native American: He's a Native American empowered by the spirit of the Earth.
Dr. Abraham Erskine
Dr. Abraham Erskine
Alter Ego: Dr. Abraham Erskine
Notable Aliases: Dr. Joseph Reinstein
First Appearance: Captain America Comics #1 (December, 1940)
The creator of the Super Soldier Serum that created Captain America. He was assassinated before writing down the formula, which led to several parties attempting to recreate the formula from scratch with little success.
---
Peggy Carter
Peggy Carter
Alter Ego: Margaret Alexandra "Peggy" Carter
Notable Aliases: Agent 13, Doc, Hera-2, Mademoiselle, Midge, Peggy-Poo, The Dryad
First Appearance: Tales of Suspense #75 (March, 1966) note ; Tales of Suspense #77 (May, 1966) note ; Captain America #162 (June, 1973) note ; Captain America Vol 9 #9 (April, 2019) note
"This war is everybody's war...! I was needed... and I answered the call... just as you did, in your own way!"
Margaret "Peggy" Carter is a Marvel Comics character who originally appeared as a supporting character in the comic books featuring Captain America. She was created by Stan Lee and Jack Kirby and introduced in the Marvel Universe in Tales of Suspense #77 in 1966.
She first appeared, unnamed, as a wartime love interest of Steve Rogers in Tales of Suspense #75 (single panel) and #77 (May 1966). She appeared again as the older sister of Sharon Carter in Captain America #161 (May 1973). She was later retconned as Sharon's aunt.
When Peggy was only a teenager, she joined the French Resistance
during World War II. She proved to be a valiant and highly capable agent with the Resistance and served on several Resistance operations alongside the hero Captain America. Carter and Captain America fell in love with each other.
When she heard the rumor that Captain America had apparently been killed just before the end of the war in Europe, Peggy withdrew from the world, refusing to speak, dressing in mourning garb, and requiring hospitalization. She began treatments from the criminal Doctor Faustus. After Captain America resurfaced many years after the war, he learned of Peggy's whereabouts when he freed her and others from Faustus' clutches. Peggy eventually regained her mental bearings, and initially kept her love for Captain America to herself. Eventually any romantic feelings between the two subsided, but she formed a new romance with Gabe Jones of the HowlingCommandos, one of the first interracial relationships in the comics. Peggy worked for S.H.I.E.L.D. and the Avengers Support Staff until she retired, passing away sometime in 2011.
After so many years only appearing as a Satellite Love Interest for the Sentinel of Liberty, Peggy finally became a central character in the series Operation S.I.N. (a tie-in to Original Sin, apparently). In this series, she also co-stars with Howard Stark (father of Tony Stark). It was first released in January 2015, mirroring the debut of the Agent Carter television series, which also features Peggy and Howard as major characters in the Marvel Cinematic Universe. The event in Operation S.I.N. is set during The '50s.
Nearly a decade after her death, Peggy made a surprise return in Ta-Nehisi Coates' Captain America, apparently with her youth restored (and a new nose ring). Under the assumed alias Dryad, she lead Sharon and a team of fellow female superheroes, named the Daughters of Liberty, in an effort to rescue Steve from an unjust imprisonment.
One alternate universe version of Peggy appeared as Captain America in Exiles (2018), from a world where Steve Rogers was assassinated and Peggy took his place, joined by Gender Flipped sidekick Becky Barnes. Another version with a similar story stars in the Captain Carter (2022) series.
---
Golden Girl
Golden Girl
Alter Ego: Elizabeth "Betty/Betsy" Ross Mace
Notable Aliases: Agent R, Agent X-13, the "Old Crone", Agent 13, "Clementine", "G-Girl"
First Appearance: Captain America Comics #1 (March, 1941) note ; Captain America Comics #66 (April, 1948) note ; Tales of Suspense #63 (March, 1965) note
Golden Girl was a Golden Age heroine who once served as Captain America's sidekick.
---
Mechnonaut
Mechnonaut
Alter Ego: Fabian Stankiewicz
Notable Aliases: Mechanaut, Mechano-Marauder, Mechno-Marauder
First Appearance: Avengers #217 (March, 1982)
Fabian Stankowicz is a technical whiz who tried to make a name for himself by attacking the Avengers as the Mechano-Marauder. He would eventually reform as Mechanaut and use his talents to assist the Avengers and Captain America.
---
Jet Black
Jet Black
Alter Ego: Jet Zola
Notable Aliases: Princess Zola
First Appearance: Captain America Vol 7 #1 (November, 2012)
Jet Black is the daughter of the Nazi geneticist Arnim Zola in Dimension Z where she's the commander of his army. She is the sister of Ian Zola.
---
Vagabond
Vagabond
Alter Ego: Priscilla Lyons
First Appearance: Captain America Vol 1 #325 (1986)
A young woman Jack Munroe met while traveling across America. Her brother had become involved with the crime-lord known as the Slug, pointing Munroe in his direction. Afterward, she takes up the costumed identity of Vagabond, supposedly the increasingly bad-tempered Jack's partner in crime fighting.
---
The Bus Came Back: She disappears from Captain America in '88, only reappearing in U.S. Agent in 1993.
Non-Action Guy: Despite traveling with Steve, Jack, and D-Man during the Captain storyline, she never really learns how to fight there. D-Man tries teaching her a few wrestling moves, but Jack, who never bothered teaching her anything himself, constantly gets viciously jealous when she tries.
---