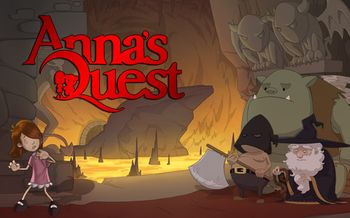 This is a tale that began in a number of places, as many often do.
It began once with two sisters in a faraway school, Where children were cruel and misunderstood all the same.
Today, however, it begins in a deep, dark wood... Where a very special girl indeed was about to begin a long and perilous journey.
Anna's Quest is a 2015 Point-and-Click Adventure Game, created by Krams Design and developed by Daedalic Entertainment. It stars Anna, a girl who lives on a farm with her grandpa. When her grandpa gets sick, Anna leaves the farm to find a cure, but is quickly caught and locked up by the witch, Winfriede. What follows in a German-style fairy tale with a twist.
Anna soon discovers that she has the power of telekinesis. She also discovers Ben, the soul of a boy trapped in a teddy bear. Together, the two manage to escape Winfriede and go searching for her grandpa's cure. This leads down a long and winding path, through a town, a dungeon and finally a royal castle. But, Anna must beware, because Winfriede is always right behind her.
---
Anna's Quest contains examples of:
---