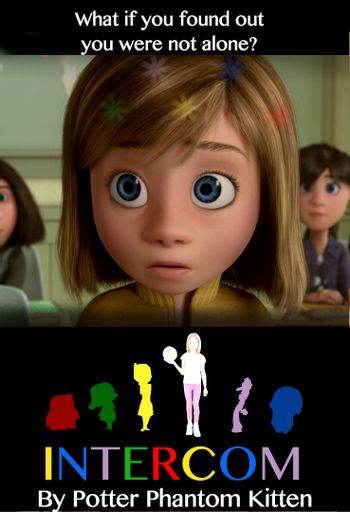 Disgust: I wonder what's got her spooked...
Riley Andersen was having a great new life in San Francisco. She was doing well in school, had fun with hockey, made new friends, and loved her room now that it was finally decorated. And a happy life for Riley was good for her emotions. Joy, Sadness, Anger, Disgust and Fear were given good days for a while now too. But one night, everything changed when Anger accidentally broke the intercom, a device that allows the emotions to speak as Riley's conscience, preventing it from being turned off. Now, instead of a "voice at the back of your head" you sometimes get, Riley gets five of them that she can hear loud and clear! Whether or not this is a good thing is tested as Riley gets to know her emotions — at the cost of potentially losing herself.
Intercom
is a Continuation Fic, though taking the premise of Inside Out in a quite different direction. Instead of continuing Riley's emotional journey at another part of her life, it takes the tagline of the film —"Meet the little voices inside your head" — literally and develops into a budding friendship piece showing Riley's growing love for her emotions, while also dealing with the dangers of actually hearing and seeing your emotional thought process.
Intercom has been dormant since August 19th, 2016 in part for the author starting a major project in Undertale: The Narrator's Musical (along with a complete lack of motivation); despite claims that the next chapter is in progress, nothing has come of it as of this writing.
---
This fanfic goes into these tropes:
---