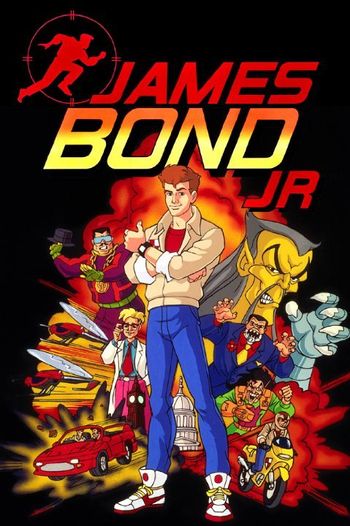 "My name's Bond. James Bond. James Bond Jr."
James Bond Jr. is a 65-Episode Cartoon that ran during the 1991-92 season and featured James Bond's nephew note Properly speaking, he should be referred to as "James Bond II" as the main protagonist. James Junior is secretly following in his Uncle James' footsteps (despite Ian Fleming's character being an only child; he may well be a descendant of James' Aunt Charmain) while attending a private boarding school. The theme song even alludes to this by mentioning that "he learned the game from his uncle James".
In his adventures, James battles the evil organization, SCUM which is made up of many of his uncle's former foes including Dr. No, Oddjob, Jaws, Nick Nack and many others, with help of his friends from school.
The basic idea of the series seems to derive from the novel 003½: The Adventures of James Bond Junior (1967), a licensed spin-off of the James Bond series of novels. The novel was supposed to be the first of a spin-off novel series but nothing came of it. Harry Saltzman, co-producer of the Bond films from 1962 to 1974, had reportedly considered adapting the novel in a television series. But these plans were aborted by the early 1970s, This animated series revived the concept of a nephew for Bond, and was at least moderately successful. (The novel and the series, it should be noted, have nothing in common other than the title.)
The series also received a Comic-Book Adaptation from Marvel Comics that lasted for twelve issues. The first five issues of the series were straight episode adaptations, while the remainder of the series told original stories. There was also a video game for the NES and SNES. Both were side scrolling platformers, but the SNES version broke up the platforming with vehicle sections. There was also a series of YA novels based on the show, one of which was even interactive, but that last one never saw release outside of the UK.
For an earlier kids' story made by some of the actors and production team who also made the Bond movies (and based on an Ian Fleming novel, no less!), compare Chitty Chitty Bang Bang.
---
"James Bond Jr. chases tropes around the world!"
---