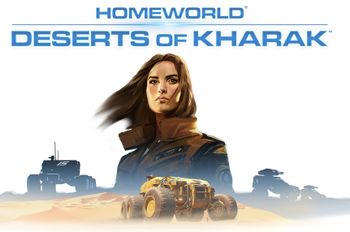 Homeworld: Deserts of Kharak is a Real-Time Strategy game developed by Blackbird Interactive and published by Gearbox Software. The game was released on January 20th, 2016.
Kharak is dying. Its deserts grow year after year, and the various kiithid are locked in constant strife and warfare. In these uncertain times, a malfunctioning satellite accidentally performs a radar scan of Kharak's surface, detecting a massive object buried in the Great Banded Desert. Made of advanced metal alloys identical to those found in mysterious debris in Kharak's orbit, the Jaraci Object - named after its discoverer, satellite technician Leykab Jaraci - is also the source of incredibly large energy readings, huge enough to be compared to Kharak's sun.
The kiithid of the North - the Northern Coalition - dispatches the carrier Kapisi on an expedition deep into the vast desert wastes to claim this "Primary Anomaly" and, in so doing, secure the last hope of saving Kharakid civilization. Among the expedition crew is Chief Science Officer Rachel S'Jet, who is on her own personal search for her brother Jacob, who vanished on a failed expedition some years before. She is determined to find what happened to Jacob and reach the Primary Anomaly at all costs, even if it means braving hurricane-strength sandstorms or trespassing on the lands of an ancient enemy...
A prequel to the original Homeworld series, the game is set on the titular planet of Kharak a century before the Kushan people built their first mothership.
---
The game contains examples of:
---