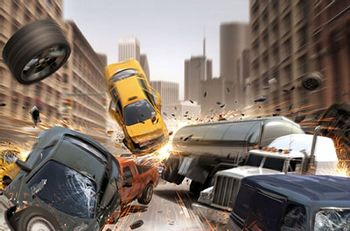 Battle Racing Ignited
—
Tagline
from
Revenge
and
Dominator
in some regions
Burnout is a Racing Game series by Criterion Games with "full contact" rules, set on city streets, and usually densely populated streets at that. The older games had fixed tracks with a start line/finish line and some opposing cars. As the games advanced, so did the "contact" part of the game, starting with Crash mode in the second game, and the addition of Takedowns and Road Rage mode in the third. The game is known for being very "fast", with the screen blurring out at extreme speeds and handling becoming this side of impossible. Also known for its spectacular camera views of cars spinning through the sky or crunching under trucks, which is totally fucking sweet.
Burnout (2001): The original. An innovative racer at the time, Burnout placed a focus on stunts and extreme driving (much like Project Gotham Racing, which was released around the same time), and became known for its high speed and its spectacular crashes, which were quite detailed for the time and acted as an abject penalty for poor racing. The name came from the game's system of Nitro Boost — you can only use boost when your boost bar is filled, and you can chain boost bars together by performing stunts and dangerous driving while boosting. Released on PlayStation 2, Xbox, and GameCube, and published by Acclaim Entertainment.
Burnout 2: Point of Impact (2002): The second game in the series. This game introduced Crash mode, a self-explanatory mode where the entire objective can be seen from the initial camera: a) you, b) a short stretch of road, possibly with jumps, and c) a crowded intersection, usually with a tanker truck passing along for additional fun. Simply run in and cause as much damage as possible. This game also featured a single "map" with tracks in geographic relation to one another, with some tracks being a combination of several smaller tracks, or even a single point-to-point route. Released on the same systems as the original.
Burnout 3: Takedown (2004): This game saw the introduction of the Takedown, which allows you to check other racers into walls or traffic to earn boost and get them out of your way. Along with Takedowns came Road Rage mode, where you have to wreck as many opposing cars as possible before a) the time ran out, or b) you took too much damage. Crash mode was also improved, adding power ups that increased (or decreased) money gained, and added Crashbreakers, which allowed you to blow up your car to do some extra damage. It also featured a similar map system to 2, only this time with three maps across the USA, Europe and Far East as part of the World Tour mode hosted by DJ Stryker on Crash FM. This game was originally planned to be released in 2003, but it was delayed for a year when Acclaim went bankrupt, finally getting picked up by Electronic Arts in 2004. EA would eventually buy Criterion outright, making Burnout a permanent staple of EA for the future. It was a smart move on their part — this game won widespread praise from critics, and it became a major hit, turning Burnout into a Cash Cow Franchise for EA and Criterion into their premier developer of racing games, including at least two installments in the Need for Speed series.note Released on PlayStation 2 and Xbox (GameCube owners weren't so lucky this time around due to its lack of online capabilities).
Burnout Legends (2005): A game released for the PlayStation Portable and the Nintendo DS. Released on the same day as Revenge, it's effectively a Best Of collection, being 80% a direct port of Takedown and 20% an adaptation of certain tracks and cars from Burnout and Point of Impact. The game also introduced Collector Cars: the name of your Profile when you create it determines an algorithm that unlocks one of five Collector Cars in each class in World Tour mode, meaning you have to race and win against human opponents to get them all.
Burnout Revenge (2005): Arguably the most combat-oriented game in the series, Revenge introduced traffic checking, which allowed you to ram through traffic and send it flying at rival racers and other vehicles. Instead of a World Tour, the game had you progress through ranks by earning Rating Stars for your racing (Single Event mode was also removed). The game also kept track of Revenge Rivals who took you down either during a single offline event or for all-time in an online event, hence the name. Also introduced was Traffic Attack mode, where you must use traffic checking to cause as much damage as possible, and Crashbreaker event variants let you use it in non-Crash events. Tracks are also much wider and have many more ramps than before to take advantage of the new Vertical Takedown. Crash Mode meanwhile removes the tokens from 3, but this time your car has a Crashbreaker meter that fills with each car that crashes (and it can fill multiple times), as well as a Target Car to nail worth a serious amount of cash. This is the last game in the series for the original Xbox, but...

Burnout Revenge [Xbox 360] (2006): The Updated Re-release of Burnout Revenge released a few months after the original with several extra features, and is the first Burnout game on Xbox 360. The menus were given various visual tweaks and the maps for each track removed, while the visuals were given a visual upgrade to 720p HD with better textures, blooming effects and crash particles. Probably the most trademark of these upgrades was the paint being able to scrape off the body of the car. The game also featured online tracking of Revenge Rivals (racers who took you down), as well as a Clips system that saw the one-time return of the replay feature that could now be shared online. It also included ten bonus Crash junctions and removed the Boost Launch system from the original. This is also the first Burnout game to feature DLC in the form of sponsor cars. This version of Revenge was made backwards compatible with the Xbox One in May 2018.

Burnout Dominator (2007): Released for PlayStation 2 and PlayStation Portable, this game was meant to tide fans over before the release of the series' next-gen debut. It returned to the series' roots by bringing back Burnouts (which had disappeared starting with the third game), and improved them by having a dedicated meter showing you how close you were to earning another Burnout. There is less verticality this time around and tracks are not as wide as in Revenge, but the Signature Takedown feature from Takedown and Revenge was reworked into Signature Shortcuts, yellow barriers in the track that would be knocked down by forcing a rival to crash into it. It's main new game mode is Maniac, which is a precursor to Stunt Mode where players would earn points through dangerous driving that is multiplied by your Burnout count. While the Crash Mode was gone, the Crashbreaker is now featured in every single event in the game. Dominator, alongside Legends, is the only game in the series that was not developed by Criterion, as they were busy working on...
Burnout Paradise (2008): The first Burnout game to come out on PlayStation 3 and Microsoft Windows, along with the Xbox 360. This game completely overhauled the series, putting it in a Wide Open Sandbox called Paradise City. Crash mode was replaced with Showtime mode, which allowed players to instantly turn any road into a crash junction in what almost feels like Katamari Damacy with explosions. Takedowns and Road Rage mode returned, but traffic checking could only be done by the heaviest vehicles, and Aftertouch Takedowns were sadly removed. New for the series were Stunt Runs, where players had to rack up points pulling off stunts (essentially a skateboarding game with a car), and Marked Man mode, where you have to get to a destination while being hounded by supercharged armored cars trying to wreck you.

Burnout Paradise Remastered (2018): A complete remaster of the game for Xbox One, PlayStation 4, and Windows with 4K/60FPS support on Xbox One X and PS4 Pro (native 1080p on older Xbox One and PS4 models) and all DLC included (except the Time Savers Pack). While a few textures were replaced and a song or two removed for licensing reasons, this is considered to be the definitive edition of Burnout Paradise, especially for PC players who can finally enjoy the Cops and Robbers mode and (officially and in full) Big Surf Island.note In particular, improvements to online gaming in the intervening decade means that online co-op challenges are much more feasible to complete. A Nintendo Switch port is slated for a June 2020 release, making Paradise Remastered the first Nintendo-platform Burnout game in 15 years since Legends.

Burnout CRASH! (2011): The first digital-only installment of the series, released on PlayStation Network and Xbox LIVE Arcade. Taking the basics of Crash Mode from previous Burnout installments and expanding it into a full game, CRASH! is a different spin on the Burnout family. CRASH! takes place in "Crash City" and is played from a top-down perspective rather than from behind the car. There is no racing component as the game focuses purely on causing as much destruction as possible. The game features more fantastical elements than the rest of the series, such as UFOs. This installment also brought in the Autolog system used in the Criterion-developed Need for Speed games.
---
Tropes used in the Burnout series:
---